Real ID becoming reality with first deadline Dec. 31, '09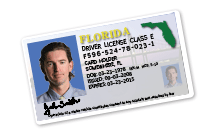 Despite Real ID opposition, as symbolized by web sites like realnightmare.org, an ACLU site, unrealid.com and blogs like stoprealidnow, the 2005 law isn't going away. The federal government even tried to soften the monetary blow when it issued its final compliance regulations earlier this year. But in the end, it's as U.S. Department of Homeland Security Secretary Michael Chertoff said when the regulations were first rolled out: "The rule is the rule. It was passed by Congress, it was enacted into the law of the land, and I'm obliged to enforce it."
The final rule was released in January and sets uniform standards that are designed to enhance the integrity and reliability of driver licenses and state-issued identification cards, strengthen issuance capabilities and increase security at license and identification card production facilities. The final rule also dramatically reduces state implementation costs by roughly 73%.
Real ID is designed to address document fraud by setting specific requirements that states must adopt to comply. As DHS Sec. Chertoff explained, "people seeking driver licenses must provide to their state Department of Motor Vehicles documents that prove who they are and prove that they are here in this country legally. Second, DMV offices must verify that the documents they are being presented with are legitimate. They have to take steps to protect their own operations and their own databases from identity theft and other corrupt activities. Third, licenses issued by states now must meet tamper-proof standards that will make it much harder to counterfeit or alter a secure driver license. And finally, states have to work together to assure that individuals are not able to obtain driver licenses from multiple states."
The first deadline for compliance is Dec. 31, 2009. By then, states must upgrade the security of their license systems to include a check for the lawful status of all applicants to ensure that illegal aliens cannot obtain the new licenses. Some states are expected to be compliant before that time, says DHS. Compliance will be needed for access into a federal facility, boarding commercial aircraft, and entering nuclear power plants. DHS is making approximately $360 million available to assist states with Real ID implementation – $80 million in dedicated Real ID grants and another $280 million in general funding as part of the Homeland Security Grant Program.
The 73% cost reduction – from an original estimate of $14.6 billion to approximately $3.9 billion – was achieved mainly by giving states greater flexibility in issuing licenses to older Americans. Enrollment will be completed for all individuals less than 50 years of age by Dec. 1, 2014. For all others, enrollment may be extended three additional years to Dec. 1, 2017. At that time, all state-issued driver licenses and identification cards intended for official federal purposes must be Real ID compliant.
Real ID came out of the 9-11 Commission recommendations that the U.S. improve its system for issuing secure identification documents. In Real ID becoming reality with first deadline Dec. 31, '09 the commission's words, "at many entry points to vulnerable facilities, including gates for boarding aircraft, sources of identification are the last opportunity to ensure that people are who they say they are and to check whether they are terrorists." The Commission specifically urged the federal government to "set standards for the issuance of … sources of identification, such as driver licenses" because most of the 9-11 terrorists had legitimate driver licenses.
One of the biggest problems states have with Real ID is its cost even now that it has been slashed 70%. But that's not as much a DHS problem as it is a congressional one. State groups, including the National Council of State Legislatures, the American Association of Motor Vehicle Administrators and the National Governors Association are still evaluating the final rules but, in a joint release, said they are at least happy that DHS has backed off on some of its more stringent requirements as well as relaxed some of the compliance dates.
"Governors, state legislators and motor vehicle administrators are pleased that many of the regulations seem to reflect comments and recommendations submitted by the three groups to DHS, including extending compliance deadlines and giving states flexibility to manage their systems and make them more secure," their statement says.
"DHS also recognized that the implementation cost was an issue by making changes to reduce costs to states. Their estimate remains significant at $3.9 billion. To date, however, Congress has appropriated less than three percent of the projected costs to assist states."
The NCSL has issued a series of "briefings" reviewing each of the requirements, including the deadlines, ID verification, physical security requirements of DMV facilities, requirements for a Real ID-compliant card and more.
Janice Kephart, former counsel to the 9-11 Commission who now runs her own company, 9-11 Security Solutions, says that one cost-saving move is the paring down of "the number of ID documents that driver license offices will need to authenticate. Once scanned, the docs can be used for online renewal."
"Most of the cost we were seeing had to do with the renewal cycles being shortened. That's now out of the picture. We're also not dealing with the need for extra personnel, so states' concerns about customer service have been eliminated," she says. Once Real ID is fully implemented, "there will be a greater connectivity among states." That means states will be able to more easily check with each other to verify that the applicant doesn't already have a license in another state. "I foresee there will be a lot more confidence in the system," adds Kephart.
"What states have to do now is decide whether to get on the bus or not. The bus is going to leave the terminal so they have to decide by May 11, the act's original deadline, whether to ask for an extension."
One problem the NCSL had was the delay in final regs. At the time of issuance – Jan. 11 – states had just 120 days left to comply unless they asked for an extension to Dec. 31, 2009. "All states have to do is say 'yes, we want an extension,' " says Kephart. "Most states which want an extension have an intent to comply, so by then we'll have a pretty good idea of who's in and who's out."
"If the states don't ask for an extension then they have to comply with Real ID by May 11," adds Jeri Owen, vice president of marketing for Beaverton, Ore.-based Digimarc, which supplies driver licenses to 32 states.
Requesting the extension may simply be delaying the inevitable. Kephart says that within three days after the final rule was released, 18 states had already requested an extension.
She's also seen indications that some of the original states that had flatly said they wouldn't comply will eventually come around.. Maine, Montana, New Hampshire, Oklahoma and South Carolina legislatures even adopted laws saying they wouldn't.
"It will be a huge burden on a state's citizens if they don't comply," says Kephart. The license its citizens possess would no longer serve as identification for getting on an airplane. "That means people from that state would have to come up with a different form of identification," Chertoff said. Or worse, they may find themselves being detained and questioned. "So it's going to be inconvenient. There's no question the law creates a very powerful incentive for states getting on board with this process. It doesn't make states do it, but convenience and common sense strongly counsel in favor of beginning to move down the path towards this secure form of identification."
"When push comes to shove I don't think there will be any state that won't comply," says Kephart.
She says the new rules "have given states a tremendous amount of flexibility. DHS also provided a 27-page best practices section on privacy to go along with the rules so states have a best practices to follow," she adds.
"One of the reasons I trust the rules so much is because the folks who authored them are former DMV heads, so they know what DMVs can and can't do."
To help, first with data comparing and later with state compliance, some $50 million has been requested by the feds to support implementation of the Real ID Act to develop an information sharing and verification "hub" capability. This "hub" will allow states to quickly and electronically verify document information with the source agency (both federal and state). In addition, the hub will facilitate state-to-state exchanges of driver's license information. Grant funding to assist states with implementing requirements of the act has also been requested under the State and Local Grant Program within the Federal Emergency Management Agency.
One Real ID option is the Enhanced Driver License that includes a radio-frequency identification chip. Washington State is already deploying the cards and other border states are considering it. In order to obtain one of the enhanced driver's licenses an applicant must prove citizenship, one of the primary Real ID motivations. States issuing the enhanced driver's licenses will be compliant with Real ID.
Digirmarc, the company supplying the enhanced licenses to Washington State, has been preparing for Real ID since 2005, says Owen. The company has in place a range of Real ID compliance scenarios, but there is one ingredient still missing from the regulations, "a visual security marker," she adds. That would allow law enforcement or other agencies to immediately recognize the validity of a license. The marker could be something as simple as a hologram to one more sophisticated. In any case, it has to be one that can't be counterfeited.
To those privacy zealots who continue to rail against Real ID–the realnightmare, unrealid and stoprealidnow folks–"They clearly did not read the regulations," says Kephart. "If they did read them, they ignored what they said because they're saying things that are completely opposite of what the regs require. I've been dealing with them for a year and I have no tolerance for people who misuse the facts to push their own agenda. That's blatantly wrong."
To those same objectors, Chertoff argues: "Most of these objections are really grounded in misinformation…We are not going to have a national database. Real ID does not require that states start to collect additional information from applicants that they have not already created. We are not going to wind up making this information available willy-nilly. In fact, the steps we are taking under Real ID will enhance and protect privacy rather than degrade and impair privacy."
After the dust has settled, although that may be nine years from now, Kephart thinks Real ID will still be considered a "huge win" for the American people. That's obvious from polling that shows 70% to 80% of people favoring it.
"I think Real ID meets what the 9/11 Commission recommended," says Kephart. "It is a huge improvement over where we've been or where we are now. Who would have ever thought it would be 2017 before this was put in place. But we initially thought it might be rejected and this would have been the only recommendation from the 9/11 Commission that would have failed. From my point of view I don't think we could have asked for anything more than what we have right now."