Registered traveler resurrected?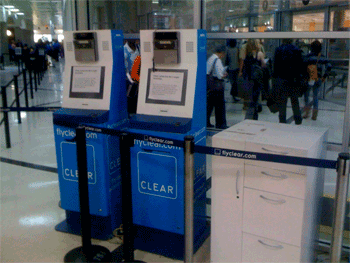 TSA, vendors deflect blame for past failures
By Zack Martin, Editor, Avisian Publications
There are many opinions as to why registered traveler programs at more than 20 airports across the country failed, but nobody is stepping up to take the blame quite yet.
Fingers were pointing between the Transportation Security Administration and the vendors who provided the service at a hearing of the U.S. House of Representative's Committee on Homeland Security's Subcommittee on Transportation Security and Infrastructure Protection.
But even though Clear, the largest of the three vendors, failed in June the program looks to be getting a second chance. A new group intends to resurrect Clear and FLO said it will restart operations before the end of the year.
"Clear failed its customers and other registered traveler providers, such as Flo, failed their customers because they were too reliant on Clear," said Sheila Jackson Lee (D-Texas), the subcommittee's chairwoman. "This panel will lay a marker for all stakeholders as the process for resuscitating registered traveler moves forward, and we expect to remain an integral part of the ongoing registered traveler dialogue."
Jackson also faults the TSA for the program's failure.
"To carry out its duties under the Aviation and Transportation Security Act, TSA worked with industry to establish technical and interoperability standards for service providers, such as Clear," Jackson said. "However, after these initial actions, TSA stopped conducting security threat assessments and criminal history background checks on participating RT passengers. Without these threat assessments to determine lower-risk passengers, TSA effectively rendered this risk-based security program impotent."
Cut in line program
Jackson is referring to the 2008 TSA decision to stop doing government background checks on registered traveler applicants. It was at that point that the agency stopped collecting the $28 background check fee and it stopped being referred to as a security program. "TSA determined that this private-sector program did not provide any additional level of security," said John Sammon, assistant administrator for transportation sector network management at the TSA.
Some say this is where the problems began. "Lacking the security threat assessment component, critics called registered traveler a 'head-of-the-line' program," Jackson said.
Michael McCormick, executive director and chief operating officer at the National Business Travel Association, testified that this led to the demise of the program. "As month after month went by with registered traveler acting essentially as a competitor 'front-of-the-line' program to airline first-class and TSA experienced traveler offerings, investors supporting registered traveler vendors opted to pull their financial support for the largest vendor, Verified Identity Pass," he said.
Adding the security element to registered traveler would help the program and the vendors offering the services, McCormick says. He urged the committee to enact pending legislation that would require the TSA to perform the background checks on individuals in the registered traveler program.
The association would also like to see domestic registered traveler programs combined with Homeland Security's Global Entry, a program that expedites citizen processing through customs checkpoints. McCormick said that discussion of joining the programs have been unproductive thus far.
That's not the only area where the TSA has been unhelpful, said Fred Fischer, Managing Partner, FLO Corp. The agency has not been accepting of new technology. Clear at one point wanted to deploy shoe scanner so travelers would not have to remove their shoes but the TSA nixed the idea.
"The TSA has told us on many occasions that the technology that could allow travelers to leave their shoes and coats on and keep their laptops in their bags does not exist," Fischer said. "The fact that more than 90% of the world's airports, utilizing the latest technology, do not require such divesting is evidence that technology does exist."
Not just the TSA
But registered traveler's failing is not just the TSA's fault, Fischer said. "Since the inception of the registered traveler program, the TSA was constantly challenged, undermined, bullied and publically berated by one of FLO's competitors," he said. "Understandably, this created a partnership that was at best strained. This has resulted in TSA having an unfavorable opinion of both registered traveler and its providers, and has compromised TSA's support for this essential program."
Fischer says the business model for registered traveler needs to be rethought. "Clear's failure was brought on by a number of issues: overstaffing at airports, exorbitant overhead, excessive advertising and revenue share components to airports including national revenue share, local revenue share and minimum annual guarantees that were not required but used primarily to discourage and eliminate competition," he said "In the end, it was not a lack of capital that killed Clear, it was poor management and an unsustainable business plan. All of these issues can and will be addressed and controlled under a re-launch by FLO, or any competitor."
And a re-launch of Clear is coming. Alison Townley, principal at Henry Inc., an Emeryville, Calif.-based venture capital firm, told the subcommittee that the firm plans to take over the program.
A survey of Clear members, conducted a month ago, found that 70% of customers would return to the service when re-launched and an additional 20% would return depending on which airports were reopened, Townley said.
The new management would also make some changes to the program that involve two parallel paths, Townley said. "On one path, we will ready ourselves to install and implement the secure biometric infrastructure required to support a robust, risk management vision," she said. "Simultaneously, we intend to launch a streamlined 'fast pass' process which would allow innovations like 'same day' in-airport sales and more pricing options, while still providing certain non-security-related conveniences for members."
The fast pass will address one of the criticisms of the program, Townley said. Travelers wanted to sign up and be able to use the program in the same day. "And, once they sign up for a 'fast pass,' it will become much easier to invite them to join the secure, biometric risk management program and to take the additional enrollment steps that entails," she said.