RFID could help hospitals contain Swine Flu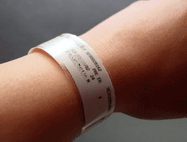 According to Network Computing, countries struggling to contain Swine Flu outbreaks, such as India, which has now reported 200 deaths from the illness, should consider issuing RFID-enabled hospital bracelets to infected patients and hospital visitors to determine who has come in contact with whom, and use the data to develop quarantine strategies.
The proposed bracelets can also be used to monitor movements of all patients within the hospital, to ensure that uninfected patients do not come in contact with infected ones. Hospital administrators can review a log of all patient interactions and react promptly to contain the spread of the disease within the hospital.
Read more here