RFID curbs lost or stolen luggage at the airport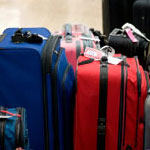 ReboundTAG, based in the United Kingdom, has created a new solution focused on preventing baggage theft or loss for airlines and individual business flyers through the use of RFID technology.
Dubbed the Microchip Bag Tag, the permanent RFID tag enables luggage to be quickly and easily identified by airlines and airport personnel. Each tag is embedded with two microchips, one containing ReboundTAG's ID and another with 128 bits of space for airlines and airports to use with their own RFID systems.
In addition, there is a printed bar code that airlines without RFID can scan, as technology continues to develop and more airports and airlines begin to use RFID technology.
If luggage is found missing, the printed number can be also be entered at ReboundTAG's website. This will send an automated SMS to person who is missing their luggage notifying that their belongings have been found.