RFID deployment improves logistics at California facility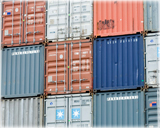 Exel, a contract logistics provider, released a case study about a joint deployment at its multi-customer trans-load facility in Southern California.
For this project Exel partnered with Motorola for RFID and PINC Solutions to develop a yard management system. Trailers from various shippers arrive at the facility, and upon arrival, each receives a temporary RFID asset tag. Once applied, the tag enables the facility to track the movement of the trailer, reporting its position in real-time. When trailers exit the facility, tags are removed.
Yard trucks are also equipped with RFID readers and GPS receivers serving as the tracker module, and maintain and detect the location of yard assets and shipments, driver details, arrival and exit times.
The system performs yard counts on an ongoing basis and provides email notification of events. All documentation is digitally stored and searchable, allow representatives access to any and all relevant information.
The system has reportedly improved operational control and tracking of assets and penalties such as detention and demurrage charges associated with yard delays have been completely eliminated. Drivers spend less time waiting and more time driving, thereby improving productivity and reducing emissions.