RFID implant turns scientist into a walking computer virus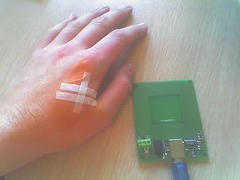 A British scientist has implanted an RFID chip within himself that contains a computer virus; one which is reportedly able to infect RFID readers and even spread to RFID chips, according to a report from The H Security.
With the chip implanted in his finger, Dr. Mark Gasson has launched several tests to highlight the risks of the medical RFID implants. He was said to have managed to transfer the virus to other systems using this implant.
He points out that the technological advancements of critical implants such as pacemakers and cochlear implants also make these components vulnerable to unauthorized access and manipulations.
Gasson intends to present further results of his studies at the forthcoming "International Symposium for Technology and Society" in Australia.
To read more click here.