RFID leaps from the warehouse to the art museum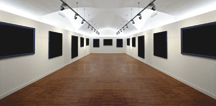 Galleries are tagging collections to improve inventory control, security, and the total customer experience
By Ryan Kline, Contributing Editor
After leaving a museum, you may think you are an expert on everything from painting to sculpture, but there are a lot of artifacts that you passed right by. It wasn't that you went too fast and skipped over some unattractive pieces, many of the items you missed were out of sight, behind the walls in storage.
When the museum needs to find a particular piece of artwork for a special exhibition or to loan to another museum, the piece has to be manually located by searching the museum's – often vast – racks and storerooms.
RFID vs. Barcode
Many museums utilize a barcode system to identify their collection's contents, but some feel an RFID tracking method works better. Why?
The ability to read multiple tags at one time—
This cuts down on labor costs required when physically scanning every artifact the museum has barcoded. With an RFID reader, one scanner can read all items within a short distance. Reading 20 or more paintings stacked in a storage drawer at one time, significantly reduces the time it takes to make sure everything is accounted for. It is estimated that one individual could record the exact location of 10,000 pieces in about 2 hours.
"No touch"—
"The one key advantage of RFID over any other identification technology is that pieces can be identified with no physical contact whatsoever, even when they are stacked, and the identification tag is not visible," said Bartek Muszynski, President of Canada's NJE Consulting Inc., an RFID system integrator and consultant. "Yes – a barcode can be read without physical contact, but would be an eyesore if it had to be exposed with the piece, and of course, cannot be read in a stack." With RFID technology, the transmitter can be read through most protective sleeves or cases housing the masterpieces. Mr. Muszynski adds, "RFID can significantly reduce the required handling of artifacts, contributing to the overall conservation goal of the museum."

The convenience of knowing exactly where each item is located —
With RFID tracking, each piece can be located by a computer program that can help locate the position as needed. Imagine that a manually edited log book has a particular piece's last documented location in storage room A, but when that room got too full it was relocated to storage room B without any documentation. The RFID tracking system would automatically be updated allowing the searcher to locate it despite the inaccurate logbook.
Museums that move their displays frequently but do not have the staff needed for ongoing physical inventory benefit greatly from RFID tagging. According to Mr. Muszynski, "even with passive tags, there is a significant security benefit, since door readers can detect passive tags as they pass through. Unlike Electronic Article Surveillance (EAS) systems, RFID lets the reader know exactly which piece has passed through the door, not just the fact that a piece has passed through." This ensures an accurate inventory at the same time as allowing security tracking. (EAS Systems are used to deter shoplifting from retail stores or pilferage of books from libraries via a simple on / off "switch" that is deactivated during proper check out.)
Therefore, when a museum loans inventory to another museum or displays it offsite, the artifacts are 'checked out' by the RFID reader and can be 'checked back in' as the exhibit reenters the museum.
RFID tags are more expensive than barcodes, but RFID supporters stress that ongoing cost savings, more accurate inventory, and better security outweigh the extra per tag cost.
Taking tagging to the next level: Active tags aid in security
Although galleries use conventional security such as alarm systems, closed circuit television, and security guards, these systems are often turned off or used less during the hours when the gallery is open.
With active tagging, the applications for RFID in the museum expand greatly. Where the more common passive RFID tags derive their power from the reader in order to 'turn on,' active tags have their own power supply. Thus active tags can communicate with readers at much greater distances than their passive counterparts.
Long-range identification capabilities made possible with active tags allow artifacts to be read with a network of readers strategically placed throughout the buildings.
RFID monitoring allows the museum to know exactly where the tagged work is at all times, relaying information to a computer in real time. If someone were to move a tagged piece, staff could track the piece down and intercept it before it left the building. With a museum RFID protection system auditing a gallery's collection nearly 6,000 times a day, the treasures of yesterday are highly secure.
Tags can be assigned different functionalities depending on the type of artwork being protected. For instance, a painting on the wall can be tagged with a chip that has vibrations sensors, and if it is moved without authorization, a real-time gallery alarm will be generated. The systems can even be configured to contact third party alarm systems or integrate with security infrastructures already installed.
Tagging art lovers as well as art?
If a museum is tagging its pieces of art, why not tag each individual as they walk in the door? Physically tracking patrons through the exhibits allows the museum to generate statistics on several different levels. When each patron has a unique tag, the gallery can acquire information never before attainable. How long did you look at each piece of art? Who saw it with you? Couple the electronic information with a post-visit questionnaire and a wealth of insight can be learned. Was time spent in a specific wing or crowd levels in that area impact the level of enjoyment? Did seeing a particular piece with another person have an impact?
This data can further help the museums and galleries know how to design their exhibits in regards to spacing, lighting, music, and more. This type of system monitors how long a visitor looked at a piece, and through analysis can determine which items attract the most visitors and revenues for the museum.
In 2004, Museum of Modern Art (MoMA) started a pilot project, handing Toshiba Pocket PCs to visitors. These PDAs are loaded with digital video and audio content about the museum's art and exhibitions that can be accessed on the fly via the museum's wireless network. At the end of the tour, the visitor can register their e-mail address. After their visit, when they log on at MoMA's web site at home, the visitor will find a personalized web site section with merchandise related to the artwork bookmarked during the tour. If they log on to the website before their visit, they can customize their tour. Upon arrival they receive their PDA with their customized tour-guide.
MoMA is also planning an RFID pilot project that will involve the tagging of artifacts for inventory purposes so that RFID can be used to automatically register where exactly any piece of art is located.
By issuing RFID enabled badges to employees, they too can be tracked throughout the monitored facility. Management could tell when people arrived and left and could even tell who is meeting with whom, and in what part of the building. Each employ therefore would be tracked in and out of storage rooms and therefore could be associated with pieces that are being moved throughout the building. Security or all items is also enhanced eliminating unauthorized persons entrance to restricted areas.
In a report by the technology provider building the PDA solutions for the museum, Steve Peltzman, MOMA's chief information officer said stated, "once all art pieces are tagged we will find other ways to take advantage of it." That seems to be a fitting statement for RFID in museums and other industries. It is less a solution than a leveraging point to build other solutions.