RFID making in roads in health care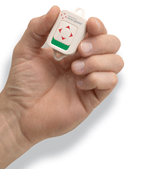 By Andy Williams, Contributing Editor
The last thing a hospital employee wants to do is run around searching for a piece of equipment needed for a patient or an upcoming surgery. If the device can't be found, often, hospitals rent the equipment even though it same device may be sitting somewhere in the hospital, such as a storage room or another area long vacated by the patient, unused. These rentals can cut into a hospital's bottom line.
But using the same scenario, what if you could go to the nearest computer, call up the device number and get notification, within six feet, of where that device is? That's the purpose behind RFID in a hospital environment. Yes, it's the same technology used by major retailers or wholesalers to track products or shipments but health care facilities are also using it to save money.
Awarepoint, San Diego, Calif., was founded six-years ago to track assets and people in real time at acute care hospitals, says its CEO, Jason Howe. Like RFID, Awarepoint's primary product, real time location service, has its own acronym, RTLS, which goes beyond location. "You also need to monitor and get history as well," says Howe.
The company's name is derived from this: "Find a point and you're aware of everything," says Howe. While Awarepoint is an active RFID company, he compares RTLS to an indoor positioning system. In fact, Awarepoint got its start by tracking kids at theme parks. RTLS grew from that when it was realized that such a system could work well in hospitals, which "have a lot of unique issues," says Howe.
He describes what he calls five criteria that need to be in place to make RTLS advantageous for hospitals.
First, you need facility-wide coverage. "You have to cover every square inch of your medical facility," says Howe. He likens this to GPS. If you drive outside a zone that may not be covered, there's a problem.
Second, it has to be accurate enough to be able to pinpoint the item's location. Is it in a hallway, outside of the hallway or in a room? "You have to have enough accuracy to tell you where things are," he says.
Three, it has to be an easy to install. "You can't afford to pull wires and cables everywhere. And you can't shut down patient rooms or the operating rooms. You can't interfere with any systems," Howe says.
Lastly, you have to be interoperable with other systems in the hospital. "You have to be able to leverage those systems. There needs to be some way of integrating this system. It can't be its own proprietary system."
Finally, it needs to be relatively cheap. There must be a "low cost of entry and a low cost of ownership."
So, why hasn't the market taken off more than it has? A lot has to do with failure to meet those criteria Howe just mentioned. "It has been too expensive to install system-wide because you have to pull cables." For Howe and the Awarepoint system, "minimally invasive" means no hard wiring. "When you're talking about removing ceiling tiles, etc., pulling all those cables, it has been prohibitively expensive."
In addition, past systems have been cumbersome with short battery life, basically "a nightmare to maintain," says Howe. "And once the system is installed, they've found the system isn't accurate enough."
But all that is changing with several competitors, all trying to access what Howe calls a multi-billion dollar market that he believes will be satisfied in the next few years.
Awarepoint call its system Realtime Awareness platform, says Howe. The company sells directly to hospitals but wants to be an OEM to distributors and work with third-party application developers. Awarepoint is in 24 medical facilities, says Howe.
There are different kinds of active RFID tags in the RTLS, depending on need. There's a tag for employee badges, one that includes a thermometer to track temperature of a patient, another for oxygen tanks. "Bottom line, we have different form factors, all battery powered. They last about five years," says Howe.
These tags talk to a sensor or receiver in a mesh network. "The thing about Awarepoint is we have the patent on a plug-in form factor. We just got issued that patent. Most people have to pull cables and power those things. But unique to Awarepoint is this patent that allows them to plug into an AC outlet. That's one of our advantages."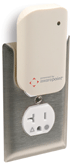 Plus, Howe adds, with the mesh network, when a new tag is plugged in, it automatically becomes part of the network. "It's self-healing," Howe says. "Other systems have to be individually calibrated."
Another advantage of asset tracking via RFID is that it reduces rental costs. "Hospitals rent a lot of equipment, but when you're able to find something quicker, you don't need to." This helps defray the cost of the system, he says.
Deploying the system include management of the network. Information reporting and management are all handled by a network operations center. It's managed securely over the Web with the same type of security that the Department of Defense and credit card companies use, 256-bit encryption.
"24, 7 we have someone that looks at this information. If one of these tags' batteries start going down, we know it needs to be changed," says Howe.
He compares this fully managed service to software as a service, commonly shared programs utilized by many enterprises. "Like SaaS, Awarepoint covers every aspect of it."
Another aspect of Awarepoint is patient tracking. For example, if a patient is sitting in the same location for more than 30 minutes the network can notify someone. "The reason we track patients is because we like to figure out where the bottleneck is in the process," Howe says. "Second, patients can get lost in a huge medical institution and third, we help hospitals get payments. Unfortunately patients come into a hospital, then leave. We can help with that."
Awarepoint can track that patient from admitting all the way to discharge. "We can tell their family members when they go from OR to the recovery room and we can send a transport person to them sooner," says Howe.
One hospital that is reaping the benefits of an Awarepoint installation is the University of California Thornton Hospital in San Diego. It's happy with the system and already has moved to install RTLS into another of its facilities, Hillcrest, says Scott Sullivan, the hospital's business manager for perioperative services. Perioperative is basically a patient's time spent in a hospital environment, from admitting, pre-op and post-op and covers both inpatients and outpatients.
"We started at the other facility and we've since gotten approval and funding to move to our primary hospital, which is about four times as big," Sullivan says.
Why Awarepoint's system? "There were no up-front costs, they supplied everything," he says. "It was easy to install, you just plug in to other outlets. They did the entire mapping for us, did all the work and it didn't cost the hospital to do it. We tried it and liked it. It didn't cause any disruptions for patients, there were no construction fees, it was basically just plug and play," says Sullivan.
He says the program has paid for itself. "We were doing monthly rentals and we were hoping to eliminate rental equipment," Sullivan says. "We were able to pay three fourths of the monthly fee from the savings generated by fewer rentals."
Sullivan says the system has helped staff save time. "It helped is in the operating room in locating equipment. We go to the desktop and know where equipment is. Also, central services, which sends out pumps and feeding tubes, can retrieve the stuff after a patient is discharged. We can keep more pumps in our central services department which causes our rentals to go down. We built up that trust so various departments aren't hoarding pumps any longer," adds Sullivan.
"The other nice part is when we move stuff between facilities, it will track the equipment, because all are individually identified," he adds. "You can go to any computer at UCSD and log into the Web site and track it. That will tell me if it's at Thornton or Hillcrest."