RFID mobile computer that you can use with gloves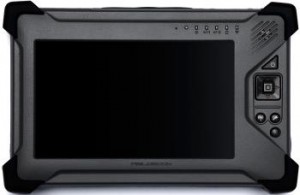 Logic Instrument introduced its latest product, the ruggedized, configurable, full-windows handheld computer with integrated RFID and bar code capabilities – the FieldBook.
It withstands 4-foot drops and operates in temperatures ranging from -20 to 50 degree Celsius in rain or dust-storms. Additional installed capabilities include: Wi-Fi, Bluetooth, GPS, camera, USB and RS232.
The FieldBook sports a 7-inch sunlight-readable touch screen that functions even when users are wearing gloves. It has an Intel Atom CPU with 2 GB of RAM and a G-Sensor protected 120 GB hard drive. It is fully rugged and environmentally protected.
The FieldBook operates stand alone up to 5 hours from dual 2500 mAh hot swappable batteries. Power options include a modular external battery charger and an office dock that provides an independent battery charger capability and additional RS232, USB and LAN ports for docked use.