RFID, NFC payments, and contactless IDs lead in '05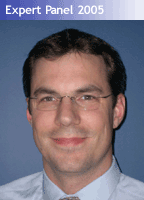 A panel of ID industry experts provided predictions for 2005. One of these glimpses into the future will appear here each day during December.
by Manuel Albers, Director Business Development Identification Americas, Philips Semiconductors

North America will realize a long awaited vision of contactless technology in 2005. This hot technology will surface in many ways next year whether it's in RFID tags to track products throughout the supply chain, or embedded into ID cards, passports, credit cards, and cell-phones to securely identify us for the purpose of granting access to and payment for services.
The mandates by leading retailers and the Department of Defense, recommendations by the FDA and application-specific, sound business scenarios are the key drivers behind an increased number of field trials and roll-outs of RFID technology. Retailers will be the first to experience the benefits of RFID. Inside warehouses, large numbers of boxes can be scanned while still packed in shipping pallets making it efficient and cost effective. RFID can reduce product loss and certify product authenticity, making it attractive to within the supply and logistics infrastructure. This will mean additional revenue for retailers while ensuring that consumers get a certified product. Additionally, consumers can benefit from RFID technology to make certain that the shelves will always be sufficiently stocked especially during peak seasons such as holidays. To guarantee the supply of RFID tags and readers, Philips has teamed up with other industry leaders to bring products compliant with the new EPCglobal Gen 2 standard to market early in 2005.
Retailers, Stadiums, Quick Service Restaurants and Gas Stations are already making contactless payment and loyalty systems available to their patrons. In 2005, this will be taken to the next level with large-scale deployments of contactless payment cards and the availability of new NFC (Near Field Communication) enabled phones. Instead of using your credit cards to pay for your tickets, gasoline, soft drinks or office supplies, your phone will be the single method of payment, making it your wallet of the future.
Following the lead of the Department of Defense, U.S. Departments such as the Department of Interior and NASA have already begun to deploy contactless identification technology for physical access control in line with the Government Smart Card Interoperability Specification (GSC-IS). 2005 will set the stage for the deployment of millions of advanced, contactless smart card ICs in ID Cards for US Government employees and contractors, as well as smart passports for US citizens.
RFID, Smartcards and NFC will be exciting technologies in 2005 and will bring with them a host of emerging opportunities that will affect our lives in many positive ways. We at Philips are excited to be on the verge of fully exploiting the potential of these cutting-edge technologies with our customers and partners. Contactless identification technology is coming our way!
Visit Philips on the web at www.semiconductors.philips.com/markets/identification
Near Field Communications News and Insight
Explore more developments dealing with the implementation of Near Field Communications, a short-range wireless technology that promises to revolutionize contactless identification, payment, access, and more.
Click to visit NFCNews
.