RFID provides relief in aftermath of natural disasters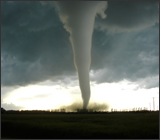 Partnership for Response and Recovery Inspections recently put RFID to some good use, tracking government assets to test in the aftermath of tornadoes, storms and floods that struck the southeastern United States in April 2011.
PaRR Inspections used AssetTrax, an RFID-based based asset tracking system from Entigral System and UPM DogBone ultra-high frequency RFID tags to streamline assembly, distribution and return of kits used to evaluate damaged homes and business in Arkansas, Kentucky, North Carolina, Tennessee and Virginia.
Inspection kits are tagged with the UPM DogBone RFID tags at PaRR's warehouse in Winchester, Virginia. The tags record the electronic product code for each item. Handheld and fixed readers and software captures tag data, to associate items with their carrying cases, pallets and warehouse storage locations.
Previously, PaRR used bar codes to tag approximately 65,000 pieces of equipment in its inventory and manually wrote or input serial numbers of items before distributing them. This new system provides the company with enhanced visibility into the whereabouts of government assets and contract personnel, thus reducing equipment losses in the field.
Read more here.