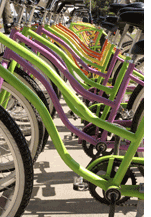 The Federal Bicycle Commuter Act, signed into law on Oct. 3, 2008, encourages employers to reward its employees who travel to work by bike, rewarding them with a tax free prize of up $20.
To further encourage and promote the Act, The Dero Bike Rack Company has developed a system which enables employers and employees to keep track their pedaled commutes using a solar powered RFID system.
The product, Dero ZAP, is a solar powered, Wi-Fi connected RFID system that records the number of times each commuter arrives by bike. The system is similar to the technology found in Fast Pass RFID tags, used on toll roads – the only difference being Dero ZAP is designed to get cars off the road.
When a commuter arrives at work, they pass through a read zone of a Dero ZAP device. It recognizes the tag which is registered to a specific employee. It acknowledges the read with an audible beep and flashing light.
The RFID collected information is transmitted via Wi-Fi to a central website that employers can access to create reports for payroll. The commuter can also log onto the website to confirm their commutes for the month.