RFID Tags and Contactless Smart Card Technology: Comparing and Contrasting Applications and Capabilities
Reprinted with the permission of the Smart Card Alliance
Many applications are now using radio frequency (RF) chip technology to automatically identify objects or people. These applications range from tracking animals and tagging goods for inventory control to enabling fast payment and securely identifying people. While these applications all use radio waves to communicate information, the RF chip technology used for each is quite different, addressing the application's unique storage, range and security requirements. As a general definition, radio frequency identification (RFID) tag technology is used in applications that identify or track objects and contactless smart card technology is used in applications that identify people or store financial or personal information.
Applications most often have differing requirements in their use of RF technology, with RFID tag and contactless smart card technologies providing very different capabilities. The figure below summarizes the types of technologies used in some key applications and the level of information protection that they provide.

Comparison of RFID Tag and Contactless Smart Card Technologies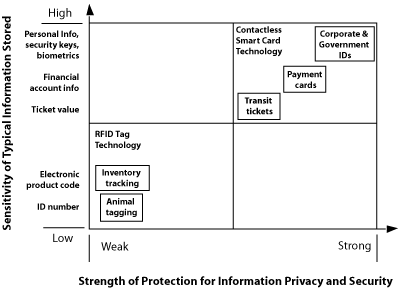 RFID tags are simple, low-cost and disposable and are being used to identify animals, track goods logistically and replace printed bar codes at retailers. RFID tags include a chip that typically stores a static number (an ID) and an antenna that enables the chip to transmit the stored number to a reader. When the tag comes within range of the appropriate RF reader, the tag is powered by the reader's RF field and transmits its ID to the reader. There is little to no security on the RFID tag or during communication with the reader. Any reader using the appropriate RF signal can get the RFID tag to communicate its contents. Typical RFID tags can be easily read from distances of several inches (centimeters) to several yards (meters) to allow easy tracking of goods. RFID tags have common characteristics, including:
Low cost, high volume manufacturing to minimize investment required in implementation
Minimal security, with tags able to be read by any compatible reader
Disposable or one-time use
Minimal data storage comparable to bar code, usually a fixed format written once when the tag is manufactured
Read range optimized to increase speed and utility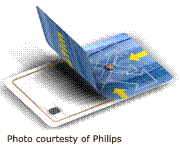 Contactless smart card technology is used in applications that need to protect personal information or deliver secure transactions. Contact smart card technology provides similar capabilities but does not have the RF interface that allows contactless smart cards to be conveniently read at a short distance from the reading mechanism. There are an increasing number of contactless smart card technology implementations that capitalize on its ability to enable fast, convenient transactions and its availability in form factors other than plastic cards – for example inside of a watch, key fob or document. Current and emerging applications using contactless smart card technology include transit fare payment cards, government and corporate identification cards, documents such as electronic passports and visas, and contactless financial payment cards. The contactless device includes a smart card secure microcontroller, or equivalent intelligence, and internal memory and has the unique ability to securely manage, store and provide access to data on the card, perform complex functions (for example, encryption or other security functions) and interact intelligently via RF with a contactless reader. Applications that require the highest degree of information and communications security (for example, payment applications, government IDs, electronic passports) use contactless smart card technology based on an international standard that limits the ability to read the contactless device to approximately 4 inches (10 centimeters). Applications that need longer reading distances can use other forms of contactless technologies that can be read at longer distances.
Applications using contactless smart cards support many security features that ensure the integrity, confidentiality and privacy of information stored or transmitted, including the following:
Mutual authentication. For applications requiring secure card access, the contactless smart card-based device can verify that the reader is authentic and can prove its own authenticity to the reader before starting a secure transaction.
Strong information security. For applications requiring complete data protection, information stored on cards or documents using contactless smart card technology can be encrypted and communication between the contactless smart card-based device and the reader can be encrypted to prevent eavesdropping. Additional security technologies may also be used to ensure information integrity.
Strong contactless device security. Like contact smart cards, contactless smart card technology is extremely difficult to duplicate or forge and has built-in tamper-resistance. Smart card chips include a variety of hardware and software capabilities that detect and react to tampering attempts and help counter possible attacks.
Authenticated and authorized information access. The contactless smart card's ability to process information and react to its environment allows it to uniquely provide authenticated information access and protect the privacy of personal information. The contactless smart card can verify the authority of the information requestor and then allow access only to the information required. Access to stored information can also be further protected by a personal identification number (PIN) or biometric to protect privacy and counter unauthorized access.
Strong support for information privacy. The use of smart card technology strengthens the ability of a system to protect individual privacy. Unlike other technologies, smart card-based devices can implement a personal firewall for an individual, releasing only the information required and only when it is required. The ability to support authenticated and authorized information access and the strong contactless device and data security make contactless smart cards excellent guardians of personal information and individual privacy.
It is important to note, however, that information privacy and security must be designed into an application at the system level by the organization issuing the contactless device, card or document. It is critical that issuing organizations have the appropriate policies in place to support the security and privacy requirements of the application being deployed and then implement the appropriate technology that delivers those features.
Contactless smart card technology is an excellent privacy-enabling solution for applications that need to protect personal information and ensure that communication with the contactless device is secure. The on-chip intelligence uniquely enables systems that use contactless smart card technology to comply with strong privacy and security guidelines, as well as deliver the speed and convenience of contactless communication. This combination of features is leading governments, corporations, financial service providers and transit agencies to choose contactless smart card technology for new secure identification and payment applications.
---
For additional information on how RFID and contactless smart card technologies are used, see the Smart Card Alliance web site at www.smartcardalliance.org.
About this Document
With the growing use of both RFID and contactless smart card technologies, Smart Card Alliance members developed this document to compare and contrast the applications and capabilities of the two technologies. The differences are important to keep in mind as the various forms of RF chip technology become pervasive in the market.
The Smart Card Alliance wishes to thank the Alliance members who participated in this project. Contributors included individuals from the following organizations: ASSA ABLOY ITG, Atmel Corporation, Axalto, Honeywell Access Systems (OmniTek), Hypercom, IBM, Infineon Technologies, LEGIC Identsystems, MartSoft Corporation, OTI America, Philips Semiconductors, Smart Commerce, Inc., Sony, SuperCom, Inc., U.S. Department of Transportation/Volpe Center, Visa USA, ViVOtech, XTec Incorporated
About the Smart Card Alliance
The Smart Card Alliance is the leading not-for-profit, multi-industry association of member firms working to accelerate the widespread acceptance of multiple applications for smart card technology. Through specific projects such as education programs, market research, advocacy, industry relations and open forums, the Alliance keeps its members connected to industry leaders and innovative thought. The Alliance is the single industry voice for smart cards, leading industry discussion on the impact and value of smart cards in the U.S. For more information, visit www.smartcardalliance.org.