RFID technology helps keep food safe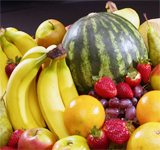 In response to the Food Safety Modernization Act signed by President Obama, wireless RFID technology is beginning to appear more in grocery store shipments as a better means to fight food spoilage, reports ABC San Francisco.
RFID technology records what happens to every palette, every step of the way, all in real-time. Enabling greater visibility, growers and grocers can then better determine which foods to put on the shelves first and reduce unnecessary waste.
One-third of all fruits and vegetables are discarded somewhere between the field and the customer, according to the report, and a temperature variation of just two degrees during shipment can cut four days off the life of berries and bananas.
"We collect a month of temperature data in one tag that can be quickly be read out and be displayed on our hand held readers," said Peter Mehring, CEO of Santa Clara's Intelleflex. The tags are also reusable with batteries that last years, and can be turned on and off remotely.
A post from The White House Blog stated that food borne illness strikes 48 million Americans, hospitalizing a hundred thousand and killing thousands. Legislation from the FSMA directs the Food and Drug Administration, working with public and private partners, to develop a new system of food and safety control.
Read more here.