RFID, the only way a man can sort his own socks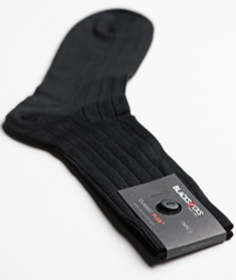 BLACKSOCKS, a European sock subscription (sockscription) service, has launched an interactive RFID-based iPhone app that makes sorting socks child's play.
Sewn into each sock is a unique communication button in the form of an RFID chip that can share all sorts of details about the individual socks, like which socks belong together, how many times they've been washer, and there's even the "blockometer" to measure how black your socks are.
With the Smarter Socks users scan each chip and as soon as a pair is found, the app makes a noise to show that the sock has found its mate and can now be considered washed. The app also incorporates information that can tell where the socks come from, what their life has been like and who they belong to.
Available now, every starter kit comes with 10 pairs of calf socks Plus+ and a Sock Sorter. The Sock Sorter works exclusively with the iPhone app and is compatible with 3GS and later iPhones.