RURO unveils RFID kit for biobanks and biorepositories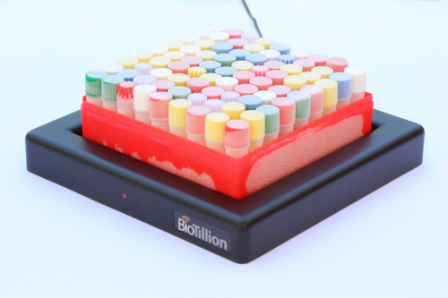 RURO Inc., a developer or research productivity tools, is offering its FreezerPro ColdTrack RFID Kit, an RFID solution for labs of any size specializing in the collection and management of frozen samples.
The FreezerPro ColdTrack RFID Kit is designed to electronically track large collections of samples kept at ultra-low temperatures in biobanks and biorepositories. The kit consists of RURO's FreezerPro software, RFID-tagged ColdTrack vials and a BoxMapper – a USB-powered scanner that provides rapid mapping of samples to the rows and columns in a freezer box.
The BoxMapper can map the entire contents of a standard size freezer box in less than a second and is unaffected by frost and ice, except in cases of extreme ice accumulation. Since scanning is quick, integrity is maintained because sample heating is kept to a minimum.
RURO's FreezerPro system is designed and developed as a Web-based solution that provides access to sample information from a remote computer. The software acts as a complete sample management solution, which stores all sample information, aliquot numbers, dates, web links and images. Inventory managers can set alerts, generate reports and much more.