SAGEM Morpho offers end-to-end biometric and AFIS solutions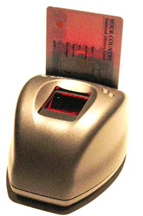 As a pioneer and market leader in large-scale biometric systems and Automated Fingerprint Identification Systems (AFIS), SAGEM Morpho is helping to migrate the technology from law enforcement to other market sectors.
The company, based in Tacoma, Washington, has deployed numerous law enforcement systems including the heralded Federal Bureau of Investigation AFIS. It is also for diverse programs including nationwide credentialing efforts in Malaysia and Mauritania, an important airport security initiative in Paris, and an immigrant verification program in the U.K.
The company was founded in 1985 as a subsidiary of French fingerprint system developer MORPHO Systèmes. In 1993, French electronics giant, SAGEM Group, purchased MORPHO, later renaming it SAGEM Morpho.
Says Teresa Wu, Marketing Specialist, "SAGEM does every single part of the chain, so we can offer secure solutions by securing every link. We cover enrollment, through software, through the terminals."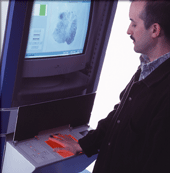 The company offers a range of devices including enrollment stations, access control readers, kiosks, handheld terminals, and more. "We use our own optical sensors because we believe they are more robust and abuse resistant," adds Ms. Wu.
She is careful to point out SAGEM's focus on the development of biometric "terminals," rather than simple "sensors" or "scanners." A terminal is "a smart device with intelligence like a PDA while a sensor is a dumb device that simply captures and sends an image." In the biometric marketplace, it is crucial to understand this difference when considering a device utilization, and comparing security and cost.

Match-on-card or match-on-device?
Though SAGEM has long supported match-on-card techniques for biometric authentication, the company has shifted focus to include a significant investment in match-on-device technology.
In a match-on-card system, the biometric (e.g. finger, palm, iris) is read by the device and compared to the stored template within the card. This matching process actually occurs within the card itself, and thus, relies on the card's chip for all computational requirements. In a match-on-device system, the biometric is read by the device and compared with the template stored on the card however the comparison is actually conducted within the device. This greatly expands the available computing power enabling larger security keys and faster processing.
The typically cited downside of match-on-device is that the biometric template leaves the card and thus is opened up to potential compromise. According to Ms. Wu, however, SAGEM has eliminated this downside by securing all keys and conducting comparisons within a tamper resistant module inside the device.
She adds, "In the future federal ID cards will have biometrics on the card. Match-on-card technology solves only part of the problem, but we believe that match-on-device will offer a better result. It is high security, faster, and uses processing power of the device rather than chip. The algorithm is limited by the processing power of the chip. We have moved the security perimeter into the device, into a tamper resistant module inside the device."
---
Additional resources:
To visit SAGEM Morpho on the web, click here.