Sakae Sushi keeps the sushi train fresh with RFID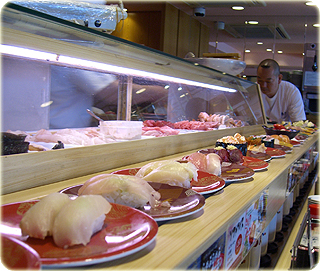 Sakae Sushi, with more than 70 outlets in Asia and beyond, has deployed an RFID system designed to keep its delectable sushi fresh as it moves from the kitchen to the customer tables, reports Today Online.
RFID tags embedded under each sushi plate relay information to a central computer which tracks the plate and ensures it doesn't "expire." Expiration for cooked food is typically two hours, while raw foods such as sushi are typically pulled within the hour.
With the RFID system in place – instead of checking on the freshness of the sushi – chefs can focus their attention on food preparation. The system can also used to track demand, enabling chefs to prepare fewer plates of sushi that are less in demand, which in turn keeps food waste to a minimum.
Streamlining daily operations further, Sakae Sushi has also created a mobile application that enables waiters to use an iPod to take orders, which are automatically sent to the kitchen.
Read more on this here.