Samsung to launch entry-level NFC smart phone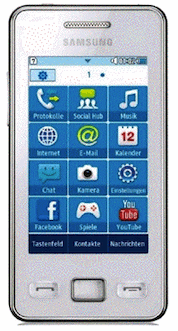 Samsung has announced a new entry-level smart phone equipped with NFC technology, according to ITproportal.com.
The Player City handset is powered by the MIDP 2.1 platform with a Dolphin browser and features a 3-inch capacitive touchscreen, 30MB of onboard storage, Bluetooth, USB, Wi-Fi and a 3.2-megapixel camera in addition to NFC.
The phone will also come with Samsung's Social Hub, which compiles the user's messages, emails, Facebook and Twitter pings all into one program.
According to ITproportal.com, the handset can now be pre-ordered at Expansys, but the price and official release date have yet to be announced.
Read more here.