Sarnoff launches new iris system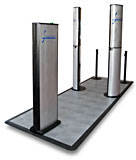 Sarnoff Corporation, a developer of biometric systems and solutions, has launched a new version of its Iris on the Move (IOM) PassPort iris recognition system.
The IOM PassPort serves as a walkthrough iris recognition system capable of capturing and identifying a moving person via their irises from a distance at a rate of up to thirty per minute. This is in contrast to most other iris recognition systems that require a user stop to be scanned.
One of the major differences in the new version of the IOM PassPort is its physical design, which is now slimmer with a smaller footprint. Other aspects involve making the system more configurable to specific needs. Officials cite a company emphasis on the user experience as to why the changes were implemented in the new version of the system.
Sarnoff also announced that it will be integrated into SRI to become effective at the beginning of 2011. SRI was already the parent company of Sarnoff. Officials from SRI cite the decision stemming from the similarity of operations between the two entities, which include emphasis on research, client-sponsored R&D, technology licensing and product development, and that integration would allow each of the two companies more resources and capabilities to perform these operations.