Schweizer Electronic, Siemens team to market RFID sensor for blood products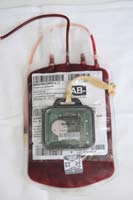 Schweizer Electronic and Siemens Austria have united to bring a new type of RFID transponder with an integrated sensor technology known as SEAGSens.
The SEAGSens technology will be used for temperature monitoring, tracing and identification of blood bags, medications and other food items. Schweizer Electronic, in collaboration with Offenburg University, will be responsible for the manufacturing of the transponders. SIEMENS will assume the distribution and marketing role.
The RFID monitors temperatures as required in the logistical applications of handling blood products. The temperature based quality assessment of the blood bags is monitored throughout its entire cycle, from donor to patient – reducing waste and associated costs.
Identification of the stored blood prevents the serious consequences of incorrect blood transfusions caused by mistaking blood bags. This same technology can also be used to monitor the transport and logistical processes of other industries and applications for which temperature is of critical importance.