SCM unveils new contactless, NFC reader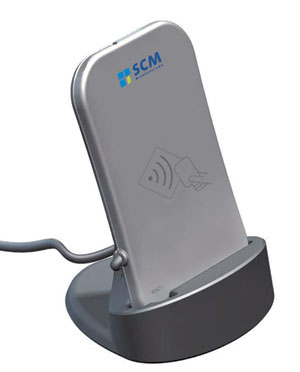 SCM Microsystems Inc. introduced its latest contactless reader, the SCL010. The device is a 13.56 MHz multiprotocol reader that supports the expansion in contactless schemes for payment, electronic government, secure transactions and access control.
SCM's SCL010 is an interoperable and multiprotocol reader that supports all 13.56 MHz contactless technologies, including ISO 14443 type A&B, FeliCa, MIFARE and NFC. This multiprotocol feature set enables the SCL010 to communicate with all contactless user credentials, for example, smart cards, dongles, NFC-enabled mobile phones and other tokens. This will enable a range of contactless applications, including ID schemes, electronic purchase, ticketing, loyalty programs, public transportation and contactless PKI applications.
With Japan currently leading the world in the use of contactless applications, SCM has made sure that its new reader is compliant with all requirements for the Japanese market. The SCL010 reader is designed to be fully interoperable with Japanese Juki Cards, which serve as identification for all Japanese residents.
SCL010 also has all necessary features and certifications to support FeliCa and other important Japanese technology standards. There are 300 million FeliCa cards and several million Juki Cards in use in Japan today, and millions of additional contactless credentials are expected in the form of new social security cards as well as mobile phones and other personal devices. More than 10,000 SCL010 readers have already been shipped to an SCM customer in Japan.