SCM's contactless reader approved for German e-ID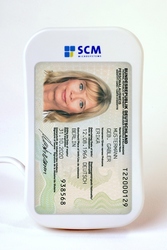 SCM Microsystems Inc., a provider of solutions for secure access, secure identity and secure exchange, announced that its contactless smart card reader SCL011 has been certified by the Federal Office for Information Security (Bundesamt für Sicherheit in der Informationstechnik, or "BSI") to be used with the new electronic ID card (neuer Personalausweis, or "nPA") in Germany.
Starting in November, the nPA – a contactless smart card – will replace the statutory plastic identification card currently held by German citizens. The new electronic ID provides security for online transactions and offers many new functions and capabilities, all in a convenient credit card format.
Many activities of daily life and business, such as opening a banking account or purchasing products, are now performed over the Internet. However, so far there is no standardized proof of identity in the online world and different passwords, codes or access cards are needed to handle different applications.
For German citizens, the nPa electronic ID card will provide the identity. Securely purchasing goods via the Internet, downloading music, confirming your age or place of birth, filing an insurance claim, or communicating with local or federal authorities and administrations are easily accomplished, saving time and money for all concerned. To perform or access services online, the nPA requires a specialized smart card reader that is easily attached to an individual's PC.
The contactless reader SCL011 from SCM Microsystems connects to PCs via USB, and acts as a link between the electronic ID card and the PC. The reader supports Windows XP, Vista, Windows 7, MacOS X and Linux for Ubuntu, OpenSuse and Debian OS. SCM's proprietary SCT3 controller chip with SmartOS enables firmware updates to the reader to support new card requirements or functionality enhancements.