Scotiabank taps Interac for new contactless debit card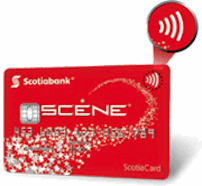 Interac Association has announced that Canada's Scotiabank is now issuing chip-enabled debit cards with Interac Flash contactless functionality.
The new "SCENE ScotiaCard" gives cardholders the choice of paying for smaller value items by simply tapping the card against a contactless reader at the point of sale.
According to Interac, Flash builds on the security of global EMV standards, existing chip debit infrastructure and consumer protections, such as the Zero Liability Policy for unauthorized transactions.
Scotiabank, which officially launched the SCENE card this week in Toronto, is the third largest bank in Canada, currently serving some 18.6 million customers from 50 countries around the world.