Second generation e-credentials demand smarter ICs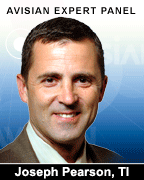 By Joseph Pearson, marketing manager for government identification, Texas Instruments
Electronic credentials ranging from passports to national ID cards are making next generation debuts in many parts of the world. The European Union is moving forward with electronic passports containing biometric fingerprint data for extended access control. Many countries are developing multi-purpose national ID cards that serve as a driver license and health care card, among other functions. And in the U.S., the proliferation of e-passports will require fast database access at land borders to verify a person's identity and securely speed him to his destination. EuroSmart, The European smart card industry association, estimates that by 2020 there will be 20 billion secure smart e-credentials marketed worldwide.
What all these applications have in common is the need for a powerful contactless smart IC. A smart IC with improved memory capabilities and faster computing speed is better equipped to handle the data storage, processing and security demands of these second generation implementations.
For example, compared with first-generation basic access control, these new ICs will have to handle nearly twice the amount of data which will have to be verified during production of the e-credential and read at border checkpoints. Exactly what type of technologies do smart ICs need to ensure that high-quality e-credentials are not only produced efficiently, but are accessed more quickly, reliably and securely in-the-field as well as accommodate new applications as the market demands?
We envision four key smart IC technologies that governments will require for these second-generation e-credentials:
Advanced FRAM: Ferroelectric random access memory is fast, low power and reliable. It's the next-generation of embedded IC memory for e-credentials that's been used in a number of mission-critical automotive applications, such as airbags, for many years. At the memory cell level, FRAM writes data 1,000 times faster than the more commonly used electrically erasable programmable read-only memory and accesses data three times faster. It requires only 1.5 volts to write compared with 10-14 volts which translates to more functionality at faster transaction speeds. FRAM has 100 trillion write and read cycles, more than 10 million times the read and write endurance of EEPROM, and provides a 10-year data retention at 185 degrees Fahrenheit.
16-Bit RISC Microcontrollers: Ultra-low power consumption is critical to passive, battery-less contactless applications. A microcontroller that is a sixteen-bit reduced instruction set computer (RISC) is twice as fast as an 8-bit, 8051 microcontroller. It also uses half the power when produced on the 130 nanometer versus 180 nm process node. Sixteen-bit RISC microcontrollers deliver simplified instructions to the IC which are less complex. Because they use less code and therefore less power, less energy is required to complete a transaction, making the transaction faster and more efficient.
130 Nanometer Production: Compared to the 180 nm process node typically used to make smart ICs, twice the amount of circuitry can be placed on the chip in a given unit area using the 130 nm process node. By producing a smart IC at 130 nm, more memory can be placed within smaller ICs using less power than can be achieved using traditional embedded memory technology approaches. The 130-nanometer semiconductor process node gives customers significant advantages in terms of die size and power efficiency.
Unified Cryptographic Engine: Next generation smart ICs need to be designed with a unified cryptographic engine which includes symmetric cryptography, necessary encryption and decryption capabilities and public key functionality that enables advanced authentication. A unified cryptographic engine delivers faster performance through separate, dual-core data encryption standard co-processors, which enables symmetric calculations to happen simultaneously. It also supports up to 256-bit elliptic curve cryptography, which is faster and 65,000 times stronger than a 2,048-bit RSA calculation. By integrating the latest low-power chip design features and transferring traditional software functions into hardware, a unified cryptographic engine uses much less power than first generation cryptographic approaches.
These new e-credentials must provide benefits for both governments and citizens with the common goal of improving personal information security and public safety. Secure smart ICs designed with fast processing, low power and higher performance can deliver a vastly improved e-credential and will insure a bright future for this new form of identification.
---
About the AVISIAN Publishing Expert Panel
At the close of each year, AVISIAN Publishing's editorial team selects a group of key leaders from various sectors of the ID technology market to serve as Expert Panelists. Each individual is asked to share their unique insight into what lies ahead. During the month of December, these panelist's predictions are published daily at the appropriate title within the AVISIAN suite of ID technology publications: SecureIDNews.com, ContactlessNews.com, CR80News.com, RFIDNews.org, FIPS201.com, NFCNews.com, ThirdFactor.com, and DigitalIDNews.com.