Senate Judiciary debates biometrics, smart card for employment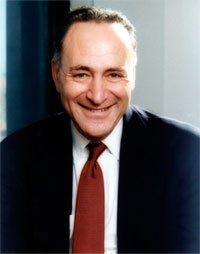 A hearing by the Senate Judiciary Committee's Subcommittee on Immigration, Border Security and Citizenship discussed ways to fix employment eligibility in the country.
E-Verify is the system in place now and it verifies Social Security number, date of birth and other demographic data. Sen. Chuck Schumer (D-N.Y.) says the system is prone to errors and doesn't work and wants to add additional identification, such as biometrics, to prevent fraud and increase security. He called for a "non-forgeable identification system to completely and accurately identify workers."
The system would be mandatory and apply to citizens and non-citizens who would use the system to verify employment eligibility. The system would have no other purpose than to verify employment eligibility, Schumer says.
This report differs from what some officials were telling SecureIDNews.com. Some said that a smart card with match-on-card technology would be issued on a voluntary basis and could also be used for online identification. Read that story here.
Testifying at the hearing was Rep. Luis V. Gutierrez (D-Ill.), who has proposed using biometrics for employment verification before. "In my last comprehensive immigration reform bill, coauthored with Congressman Jeff Flake, we included a requirement to better secure the social security card by making it a tamper-proof, biometric card," he says. "What I understand as Chairman Schumer's proposal, to actually make the entire system biometric-based, is a creative proposal that takes the system one step further."
Gutierrez says using this type of system will provide worker with greater power and access to employment records, prevent pre-screening and misuses by an employer and reduce fraud because an individual would have to swipe a card and verify a biometric in order to be verified.
Though there are challenges as well, Gutierrez says. "For one, a system that depends on a biometric card rather than a database query would require every American and legal foreign worker to obtain a card," he says. "This would place the bulk of the changes necessary at the front end of rolling out such a system, and one for which Congress would need to commit sufficient resources and to a workable time line."
It would also require employers to have equipment to verify the card and biometric. "I think Congress and the American people will want to have a clear understanding of how such technology works, how their privacy will be protected, the process and cost of rolling out access to employers and how it will be paid for," Gutierrez says.