Shanghia World Expo introduces mobile phone ticketing for 2010 event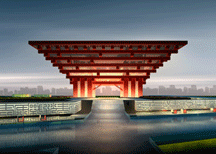 The Shanghai World Expo, opening May 1, 2010, will forgo traditional paper tickers in favor of "mobile phone tickets," which event goers can purchased and carry via cell phones equipped with RFID enabled SIM cards provided by China Mobile.
Shanghai will see some 70 million visitors during the World Expo period, many of whom are expected to visit the Shanghai Expo Park. The mobile phone ticketing program is designed to save a bundle of trees as well as streamline the entry process.
China Mobile has invested 1 billion yuan in the construction of communication facilities within the park which will allow visitors access to park information, weather and transportation updates via their phones. Visitors will also be able to purchase refreshments in the park using only their cell phones.
The mobile phone tickets will be available for purchase throughout China and Inner Mongolia November 1 at a price of 140 yuan (about $20.50).
Read more here