Singapore bank, Gemalto deploying display cards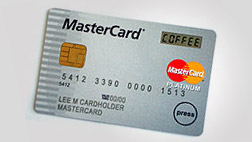 Gemalto and Standard Chartered Bank announced the rollout of a display card solution in Singapore. Developed with Nagra ID Security, Gemalto's Ezio onCard PAD & PAY is a two-in-one device with a small LCD display combining EMV payment, One-time Password and transaction signing for e-banking.
As part of an offering, Gemalto is also providing the authentication server, card personalization, fulfillment and project implementation for Standard Chartered Bank. Card personalization is performed in Gemalto's certified banking facilities, providing the same level of security as handling EMV payment cards. 

Ezio onCard PAD & PAY combines Gemalto's experience in payment cards and tokens. Available in three configurations – standalone token card, token card with ATM cash withdrawal, or token card with ATM cash withdrawal and credit card – users can select their preferred option.
Standard Chartered is an international banking group with a strong presence in Asia, Africa and the Middle East. Available to all its customers, the card is launched in Singapore and is in line with the Monetary Authority of Singapore's requirements for customers who make use of online banking to utilize new security tokens that are enhanced with Transaction Signing ability from January 2013. In the near future, Standard Chartered is also looking to include contactless functionalities in the token cards.