Smart cards in health care making small steps

Credentials have the potential to solve some of industry's bigger problems
Imagine trying to find a patient record for Juan Gonzalez at a hospital in the middle of New York City and having nothing other than the name to go by. It's not easy.
This was just one of the challenges faced by Mount Sinai Medical Center and its affiliated hospital in New York, says Paul Contino, vice president for IT at the medical provider. Trying to properly match medical records to the patient is critical. Finding out about previous conditions and medication can impact how a patient is treated and literally mean the difference between life and death.
Smart cards can help solve this, along with other problems in health care. Mount Sinai was one of the early adopters of smart card technology in the U.S. and has an aggressive project in the works that would eventually issue 100,000 smart cards to patients in New York City.
It started in 2004 with Sinai's affiliate Elmhurst Hospital Center, Contino says, when the hospital started issuing 14-kilobyte contact chip cards to patients visiting its clinic. The chip holds a small text file containing a portion of the patient's medical record.
The program is successful because 96% of patients returning to the clinic would have their cards and thus could be properly identified, Contino says.
But the card only contained data from Elmhurst so if the patient saw a specialist at another provider the information would not be reflected on the card, explained Contino. "There wasn't the ability to show results across multiple institutions."
Elmhurst, Sinai and eight other New York-based institutions decided to build a system that could be used at all their hospitals and clinics, Contino says. The institutions would standardize the data model and technology and issue cards to patients that contain portions of their medical record as well as demographic and health insurance information.
Instead of storing a patient's entire medical record on the card it was decided that a snapshot would be best, Contino says. The most recent medical activity and lab results would be on the card along with current medication, allergies and an overall problem list. Giving physicians the entire medical record on the card wasn't practical, as they wouldn't have time to review the whole thing. "It gives doctors up to three really good pages of medical data, a summary that is up to date," he says.
The model for the card was built around an emergency card. Clinicians decided that it was important to have the most recent information available to a doctor if the patient is brought into the emergency room, Contino says.
The emergency room physicians had one other request, a recent baseline echocardiogram. Contino says they were able to compress the EKG image to sit on the 64K card without any issues.
The cards are being issued at the hospitals. Before the patient receives the card there is some identity vetting performed. "They need to present another ID and insurance information," he says. The card also includes a photo of the patient and a medical record number.
Three hospitals have started issuing the card, Contino says. Contino estimated that around 5,000 cards have been issued so far and each of the 10 institutions will issue 10,000 cards.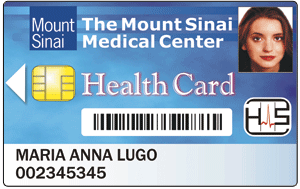 Identity technology is key to a wide range of health-related needs
Contino says smart cards are still emerging in the health care market but can provide a solution to a big problem. "We see a real opportunity to improve patient identification," he says. "You need to be able to identify a patient quickly and efficiently."
Proper identification of a patient leads to the administrative staff getting better information which can then impact insurance claims and the amount of money coming into the hospital, Contino says. Being able to accurately identify a patient also means being able to accurately charge the patients and the health insurer.
Smart cards can also decrease the possibility of duplicate patient records, a big cost for hospitals, Contino says. "Most hospitals have some level of record duplication, whether it's 2% or 15%," he says.
Contino says Mount Sinai has spent millions of dollars over the past six years to clean up duplicate and co-mingled medical records. That compared with spending between $4 and $7 per card may be a bargain in the long run. "We're investing money in smart cards so we don't have to do massive record duplication," he says.
There may be other applications for the cards down the road as well. Health care organizations are starting to invest in regional health information organizations (RHIOs), which enable those participating to share medical record information when necessary.
Part of the problems with RHIOs has been patient identification. The smart card could act as a secure token to identify the patient, Contino says. "Instead of doing a probabilistic match you could enhance the match by using smart cards," he says.
Randy Vanderhoof, executive director of the Smart Card Alliance, says organizations are working on standards for this information as well, which may accelerate the adoption on smart cards in health-related fields. The U.S. Department of Health and Human Services is working to create interoperable standards for electronic medical records.
The ability for consumers to carry around a personal health record is catching on as companies like Google and Microsoft start entering the field and offering different products to consumers, Vanderhoof says. "There's a lot of little bowling pins starting to fall," he says. "It's raising awareness at the consumer level that putting the information into a personal heath record has some value."