Smart cards proposed for Medicare IDs
Kirk, congressmen submit bill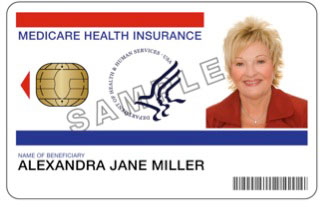 A new bill submitted to Congress proposes smart card IDs for Medicare recipients and providers. Sens. Mark Kirk (R-Ill.) and Ron Wyden (D-Ore.) and Reps. Jim Gerlach (R-Pa) and Earl Blumenauer (D-Ore.) are the primary sponsors of the proposed legislation.
The Medicare ID also has remained pretty much the same since the first one was issued almost 50-years-ago, including a Social Security number printed on the front of the card. But it's been estimated that strong credentials could help prevent an estimated $60 billion in Medicare fraud.
The new system would be based on the U.S. Defense Department's Common Access Card. Stored on the card would be the Medicare identity, a digital photo of the health care professional, a PIN for the recipient and a biometric fingerprint for the physician. The smart card would use match-on-card technology so the personal information would never leave the card.
At the physician's office both ID cards would be checked and authenticated to confirm that the appointment took place and that services were rendered. Once confirmed, the information would be sent to the payment processor.
Following introduction, the Medicare Common Access Card Act of 2011 will be referred to the Senate Finance Committee. Also, the Congressional Super Committee, created in the July debt limit deal, is in a position to include a package to combat waste, fraud and abuse in the Medicare system in their report to Congress, due Nov. 23.
The bill proposes pilots in five areas with $29 million in funding from the Medicare Improvement Fund. The Secretary of Health and Human Services will design and implement the pilots in geographic areas considered to be of high programmatic risk. Goals of the pilots include:
increase the quality of care
improve the accuracy in the Medicare billing system
reduce the potential for identity theft
prevent waste, fraud, and abuse.
The pilot program will the use of existing federal standards for identity credentials and biometric data and protect data through existing federal privacy and security standards.
After a year HHS will report back to Congress with status of the deployment, the usability of the card system and measures taken to protect data.
Two years following the implementation, HHS is required to report to Congress with an additional analysis that will discuss findings from the Medicare smart card and make recommendations for the expansion of the program nationwide.
AARP and senior rights advocate, Wilfred Brimley, joined the bipartisan members of Congress in announcing their support for the legislation.
A Web site has been set up to inform the public about the proposed legislation and provide information about smart card technology. A video summarizing the bill can also be found here.