Smart Centric and QI team to bring wireless and contactless to campus cards

By Andy Williams, Contributing Editor
Ireland-based smart card solutions provider SmartCentric Technologies has chosen the partnership route to add more functions to the services it offers clients. Its recent agreement with Texas-based QI Systems is intended to provide SmartCentric's university and corporate campuses with new unattended card readers capable of handling both contact and contactless smart cards.
SmartCentric's focus is on secure payments and transactions and multi-application smart card systems. Its flagship SmartCity is a multi-application smart card-based system with varied uses including stored value, loyalty, gift cards, logical and physical access, biometrics, car parking and ticketing. SmartCity has been installed at more than 90 sites worldwide with some five million cards issued at colleges, government offices, military establishments, banks, stadiums, oil companies and more.
QI Systems, which develops and markets contact and contactless chip-based card payment and tracking solutions, previously partnered with USA Today newspaper to allow students to use their ID cards to obtain free papers from on-campus vending machines. QI Systems' products and core competencies also include smart card and stored-value systems, security protocols, data communication software design and hardware manufacture.
Under the new agreement, SmartCentric's SmartCity platform will incorporate QI System's unattended point-of-sale card solutions for laundry equipment, vending machines, printers, copiers and parking equipment, using both contact and contactless cards.
"The strategy for SmartCentric is to offer our customers a real choice from contact to contactless technology while providing unattended devices, such as vending and laundry and allowing for remote collection of transaction data," said Kieran Timmins, CEO of SmartCentric.
Enabling offline readers to operate online for transaction collection
One of the first out-of-the-box benefits from the agreement will allow SmartCentric customers to collect transactions remotely for unattended devices rather than the manual collection process they currently use.
"With QI we'll be able to hook up these laundry and vending machines with WiFi or TCP/IP and allow the card office to collect all that information from these machines," said Mr. Timmins. "It helps us solve the issue of transaction collection and hot-listing of lost or stolen cards by providing wireless collection methods."
For example, he added: "If you take an existing Coke machine; currently the student will put in his card and the transaction is recorded in the reader. In order for the card office to capture that transaction, they have to go out to that Coke machine and insert a special card that unloads the transactions onto that card, which is then inserted into a PC. The data is then unloaded and processed. Whether it is a magnetic strip system or a smart card system these type of machines tend to be offline, which means the data has to be collected manually," added Mr. Timmins. With the SmartCity and QI system in place, the data can now be uploaded remotely.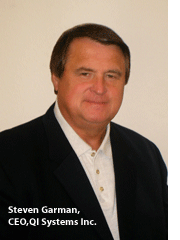 "(We will) supply Smart Centric with a product that provides convenience and speed while reducing their clients' operational cost," said Steven R. Garman, President and CEO of QI Systems Inc. "By linking a lot of unattended devices in the same system, it's much easier for the operator to control and collect the data. What Kieran is providing (to his customers) is a major step towards the campus of the future, where they want to be able to quickly and conveniently gather information and settle accounts."
"What we will have here is all the convenience of an online system and all the convenience of an offline system with all the advantages of both," added Mr. Timmins.

Adding the flexibility of contactless technology to the platform
Another advantage with the agreement is that it will open up SmartCentric to more fully utilize both contact and contactless technologies, supporting customers in both venues. "We're probably the only ones in the market to offer contact and contactless, simultaneously and a migration path between the two card technologies," said Mr. Timmins. "With QI, we'll be able to offer the choice of technologies in a manner colleges haven't seen before. What we're proposing is to be able to seamlessly migrate between the two. We will be able to take a customer with contact cards and be able to seamlessly inject new technology, contactless. As people come into the system they would be issued the new cards…"
Mr. Garman added: "I think you will see an acceleration towards the use of contactless technology in the next year or so. SmartCentric is well positioned to capitalize on the growing interest in advanced card technology."
Launching in Florida in early 2007
The first SmartCentric customer to see the benefits of this new agreement with QI is expected to be Nova Southeastern University (Fort Lauderdale, Fla.) in early 2007, said Mr. Timmins.
SmartCentric, in conjunction with its partner, Siemens Corp., is in the process of replacing Nova's current system with the SmartCity One Card., complete with both contact and contactless technologies. Its first applications will include student, faculty, and staff ID cards, cashless purchases at POS, vending machines, pay for print, meal plans, a web-based card revalue and card holder portal, and access control.
But Mr. Timmins quickly adds, "this solution (the QI agreement) is not being built for one institution. It will be part of our generic operation available to new and existing customers." And it's not just for U.S. customers either. "This will be an international operation," said Mr. Timmins.
In fact, adds Mr. Garman, " we already provide Parcxmart readers through Cale Parking Systems. They're one of our largest customers." The Parcxmart solution is a parking and local merchant smart card payment system that utilizes SmartCentric's SmartCity platform.
Conclusions
"This is certainly an extension of what we've been doing; a logical extension of where we want to go," said Mr. Garman, "and SmartCentric shares our long-term vision. We're glad to be able to partner with a company likes SmartCentric because we both see the market moving in the same direction. This alliance capitalizes on our strength and allows us to extend our business model; bringing our high-level expertise into a broader marketplace."