SmartGate popularity rising in New Zealand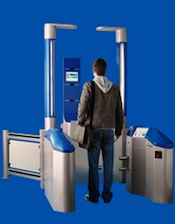 New Zealand border officials are seeing half of travelers through airports use SmartGates, the automated checkpoints that use the chip on e-passports and facial recognition to confirm a traveler's identity, according to a Dominion Post article.
In response to its growing success at the airports, the New Zealand government has been considering lowering the age at which the passport chip and face-recognition utilizing SmartGates may be used by its citizens from 18 to either 16 or 17.
Other plans for new and expanded biometric security at the airport have also been touched on, including bringing automatic face recognition to terminals so that each passenger's face would be scanned upon exiting their plane and linking the digital processing with Australia to bring a more domestic travel feel to those between the two countries.
Additionally, New Zealand is considering opening up the SmartGate program to travelers from other countries besides Australia.
Read the full story here.