Softpro unveils new e-signing check fraud system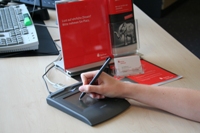 Softpro, a developer of signature-based biometric systems, has unveiled a new product suite at a recent smart card exposition. The signature suite, called SignPlus, is purported to find check fraud. Their SignDoc Web product is designed to enable for remote signing of online documents such as PDFs directly in a Web browser.
In addition to these products, Softpro has also showcased their next generation of signature tablets called SignPad eSignio. The SignPad eSignio tablets were introduced last year, but have seen resounding successes in a number of industries.