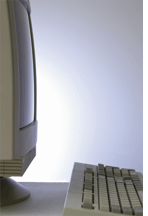 It's a harsh reality, but in this economic environment there are layoffs and companies need to make sure employees that are let go can't access networks and files after they walk out the door.
Agoura Hills, Calif.-based Symark is a company supplying software that enables IT administrators to see who accesses what files, giving them the ability to shut individuals out of systems with just a couple of clicks, says John Mutch, CEO at Symark.
The software also makes sure privileged users, or the watchers who grant access to the end user, don't do anything they're not supposed to do and if need be shuts them out of systems as well. "The security around the watchers is very granular and that's where we specialize," Mutch says.
The company has three products that concentrate on security and access, Powerbroker, PowerKeeper and PowerADvantage, Mutch says. The products focus on the Unix and Linux side of IT systems and networks that most administrators use. "It's a set of solutions that control access to critical IT resources and allow you to monitor, analyze and log that access," he says.
These privileged users have the ability to create a lot of damage, Mutch says. He tells the story of one company that had 11,000 privileged users but 110,000 privileged passwords. Users were accessing the different systems and creating different passwords to enable access. "It becomes difficult to manage this complexity over time," Mutch says.
When corporations or governments use open source systems, such as Linux and Unix, there is a lot of "home grown code." This code can be difficult to manage over time as different access control policies are created.
Symark provides software that when used properly will prevent the damage and enable companies to comply with regulations, such as Sarbanes Oxley and HIPAA. "As employees are downsized we make sure people that people no longer have access to systems," Mutch says.
Symark's PowerADvantage connects the Linux and Unix systems to Microsoft's Active Directory to allow organizations to centralize user authentication across Linux, Unix and Windows systems.
The company's PowerKeeper assigns a password to the user and makes sure he only accesses the correct systems at the allowed and defined periods of times, Mutch says. The system also keeps an audit log of the users' activities.
Symark's PowerBroker software provides Unix and Linux security and accountability by enabling system administrators to delegate administrative privileges and authorization without disclosing the root password and to grant selective access to those corporate resources.
Administrative tasks such as managing system programs, mounting devices, performing backups, and adding new users can be delegated to individuals or groups at a granular level, thus reducing the risk of accidental damage and the threat of malicious activities.