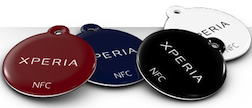 Sony has unveiled a new line of NFC Xperia SmartTags that can be used with NFC-enabled phones to perform a variety of functions, according to CNet.
Designed to streamline ordinary tasks on smart phones, Sony's SmartTags can be programmed by the user to automatically launch a particular app or turn on/off WiFi or Bluetooth with a simple tap of the phone, for example.
Sony reps at the Consumer Electronics Show said the tags should be available to customers in the second quarter of 2012 for around $30. According to CNET, the tags will work with any NFC-enabled smart phone.
Read more here.