Sprint keeps the NFC phones coming with Optimus Elite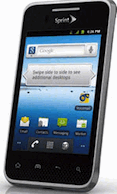 Sprint has announced the launch of yet another NFC-enabled handset, the LG Optimus Elite.
Billed as an "eco-friendly" smart phone, the Optimus Elite will be available on Earth Day (April 22) for $29.99 after rebate with a new two-year contract. The Android 2.3-powered handset features a 3.5-inch capacitive touch-screen, 800 MHz processor, 5 MP rear-facing camera and camcorder, virtual QWERTY keyboard and mobile hotspot capability supporting up to five Wi-Fi enabled devices.
Like with other NFC-enabled Sprint phones, Optimus Elite owners will be able to use Google Wallet to make contactless mobile payments at major retailers nationwide, including Bloomingdales, Toys "R" Us, CVS, Gap, Macy's and more.
According to Sprint, the Optimus Elite will also be released through Virgin Mobile USA, making it the first Virgin phone to support NFC and Google Wallet.
As for being eco-friendly, the Optimus Elite has receive ULE Platinum certification, the highest level of environmental performance recognized by sustainable requirements established by UL Environment and Sprint3.
The phone is also protected by a casing made of 50% recycled plastics and is RoHS compliant, meaning it is free from many potentially hazardous materials such as PVC, phthalates, halogens and mercury.