Sprint unveils NFC-enabled Photon Q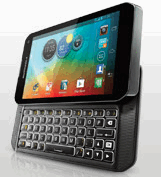 Sprint has revealed its latest NFC-enabled mobile phone, the Morotola Photon Q.
The 4G LTE-enabled smart phone features a full QWERTY keyboard, 4.3-inch ColorBoost display, 1.5GHz dual-core processor and built-in support for NFC. The device also runs on Android 4.0 Ice Cream Sandwich, allowing users to share links, apps, YouTube clips and more via NFC with the Android Beam app.
Sprint has priced the Photon Q at $199.99. The device is now available for preorder on Sprint's website, with wide release scheduled for August 19.
Check out the full features here.