Standards, new technologies, and lower prices will spur smart card growth in 2006

A panel of ID industry experts provided predictions for 2006. One of these glimpses into the future will appear here each day during December.
By Peter Boriskin, Chief Technology Manager, Software House, Tyco Fire & Security's Access Control and Video Solutions Business Unit
In last year's predictions, I discussed greater adoption of smart card readers for securing buildings, making cashless purchases, tracking assets, and storing biometric identifiers. We saw quite a few of those predictions come to fruition. Many continue to hold true this year, such as the increased use of smart cards and readers for physical access and cashless purchasing. Other predictions fell short, particularly in the field of biometrics, where we still see the market adoption of the technology as lagging behind the technology offerings. This year, however, with new technologies emerging, coupled with government influence, we'll see faster adoption of smart cards for use in multiple applications in 2006.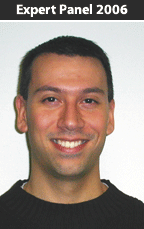 New technologies developed late last year eliminated prior barriers such as price, complexity, and the 'wait' for standards. Access control readers now support multiple standards and can read both proximity and smart card technologies simultaneously, thus easing the transition to a new solution. Additionally, because of increased adoption, prices have fallen, and integrators have become more educated on the new reader technology.
Future-proofing technology investments remains a major concern for companies. Many companies saw the benefits of smart cards early, but were waiting for published standards to avoid a rip-and-replace problem. The companies that have been waiting patiently for standards are being rewarded for their patience with new flexible technologies that allow them to move forward with assurance. These technologies bridge the gap between multiple standards and provide easy update paths as technology continues to evolve.
Government standards, such as FIPS 201, have also been released, expediting smart card adoption and mandating interoperability across government agencies. To emphasize the need for technologies that can flash-update and change with emerging standards, one only needs to look at the challenges faced by government agencies. For example, the federal government shifted from DESfire cards to the current PIV 2 card with its multi-tiered encryption algorithms, making a multi-technology access control reader (with the ability to flash update new standards) an ideal solution.
While smart cards today are still primarily used to mitigate threats and store simple data, the ability to run an operating system on smart cards (and associated applications) is opening up new realms of possibilities for what this technology can achieve.
In 2006, we'll continue to see advances in smart card technology, but with heavier emphasis on adopting new innovative technologies, leveraging the converged physical and logical access control system.
---
Visit Software House on the web at www.softwarehouse.com.

Compare FIPS 201 Products
Research and evaluate FIPS 201 Approved Products and get the latest info on compliant credentialing systems at FIPS201.com.
Click to visit FIPS201.com
.