Stark RFID locates status on 50,000 zombies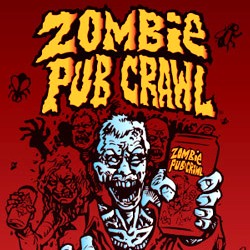 Stark RFID recently deployed an RFID tracking system to track the whereabouts of some 50,000 dancing "zombies". Their words, not mine.
The Zombie Pub Crawl is an annual event in Minneapolis/St. Paul during which thousands of people pretend to be dead and wander the streets, boozing and dancing and carousing as zombies – possibly better described as a cross between Mardi Gras and a George A. Romero movie.
Zombie guests wore RFID-enabled wristbands, which automatically tracked their every move, including access control, social media activation and customer analytics as the zombies partook in drinking, dancing and feasting upon the living.
The RFID readers fed data to customized Stark EM event management software, generating real-time updates on zombie activity and intelligence for zombie analytics as the event organizers hope to set a new world record for the largest zombie gathering on earth.