State inspectors use handhelds for amusement ride safety program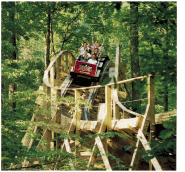 By Marisa Torrieri, Contributing Editor
This article originally appeared in a 2005 issue of RFIDOperations.
INDIANAPOLIS—The arrival of spring brings warmer weather and, in many states, the beginning of another season for amusement parks and carnivals. Until now, the latter has also meant a roller coaster of paperwork for state safety inspectors.
Nationally, about 3,000 people are injured on mobile amusement park rides, according to the U.S. Consumer Product Safety Commission. But the most tragic and widely publicized incidents (fewer than five die every year) are leading to new regulations that hold states accountable. This February, a bill calling for stricter safety inspections—"Greyson's Law"—was introduced in Ohio. The bill is named after eight-year-old Greyson Yoe, who died last year, a month after he was shocked from an improperly grounded bumper-car ride.
But Indiana Building Commissioner Bill Franklin didn't need tragedy to know it was time to change his state's antiquated, pencil-and-paper inspection system. Indiana is the first state to adopt RFID technology as an application for fixed and mobile amusement parks. By summer 2006, all 1,700 rides in the state will have 13.56 MHz tags, and building inspectors will be able to use RF readers to retrieve safety reports on every machine—a process that used to take hours.
With most of its rides tagged now, Indiana is already reaping the benefits of RFID. Inspectors say the technology is making data easier to retrieve. They are now able to devote more manpower to inspecting machines that have shown signs of trouble in the past, and making sure problems have been corrected.
Indiana's deployment is so successful that other states now have plans to adopt the technology, including Massachusetts, Ohio, Kentucky and Illinois, says Raphael Feldman, the developer of the RFID application specifically for Indiana and CEO of Pro Squared, a subsidiary of The Project Group in Houston.
Carnivals transition from logs to tags
Mobile rides are the most likely to cause problems. "In order to come into the state, the state inspector has to inspect every ride," Feldman says. "Every time you move, you have to do that all over again."
A ride must meet a long list of requirements before it is in the clear, so inspection is a tedious process. Not only must inspectors check the nuts, bolts and electrical circuits, but they must also fill out a ton of paperwork. In addition, they must compare their findings with previous inspection reports to make sure earlier problems have been fixed.
"The person who does the first inspection on the amusement ride generally is not the person who does the second inspection, so the issue was, how do you get the information to the second person?" Franklin says. "Without that information readily available, you have to mail that paperwork to the inspector." This process may take several days and delay rides from opening, Franklin adds.
All of the hand-me-down reports only make it easier for something to go awry, Feldman says. If there is any missing information (for example, an inspector doesn't get a safety report from the previous week in time, or the old report doesn't note that a mechanical problem has not yet been fixed), mistakes are more likely to occur. Now, because the information resides on the ride, it is transferred inspector-to-inspector, city-to-city.
"One of the big issues we had was, how did that new inspector get the report of what the first inspector found? Now that information resides on the chip," Franklin says.

Evolution of the system
Pro Squared has installed tags on all rides that pass through Indiana. The state financed the initiative with federal and state grants, but most of the money came from the State Emergency Management Agency. Each tag costs $5 (though in larger quantities the price is likely to be lower), and every inspector working with the system uses a $5,000 kit that allows him or her to read the tag and transmit information.
Kits include Bluetooth antenna readers, Bluetooth-enabled printers, iPAQ Bluetooth PDA readers, iPAQ accessories and 1.3 megapixel digital cameras (so inspectors can take photos of violations). Pro Squared also charges the state a $25,000 one-time license fee for the iPAQ server, which includes patented software and database applications, and a $1,250 one-time usage fee for every inspector's iPAQ.
Pro Squared installed the software and the tags (manufactured by Gemplus, which has since spun off its tag manufacturing division to TAGSYS). For the Indiana installation, Pro Squared partnered with Northern Apex, an Indiana firm with expertise in hardware, which, because of its location, is better able to assist the state with any problems.
This summer will be the first time all 13 state inspectors will be brought up to speed. The new process, Feldman says, will work like this:
"The inspector inspects the ride, looking at wires, rotation specifications or whatever the ride's parameters are, then enters that information into the iPAC PDA by simply hitting the 'write to tag' button. He or she does this with all the rides in one carnival, and completes the report in a few keystrokes. That information resides within the tags on the rides, so when the next inspector retrieves it, problems and violations are spotted immediately."
At first, the system had a few glitches: Some of the tethered hardware connections wore down after being plugged in and taken out. But with wireless Bluetooth most of these problems disappeared.
With a summer of rides about to go into full swing, the biggest thing Franklin's staff is feeling right now is relief. "If you're an inspector, you don't have to find all that paperwork," he says. "You don't know how big a deal that is."
Based on the project's success, Franklin is hoping to install RFID tags on more than 17,000 elevators. But that won't happen until funding is allocated by the legislature.