Tag identifies vehicles traveling at 300+ MPH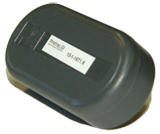 1st Choice Security Solution announced its T-8000 vehicle identification tag series, designed to identify cars, trucks, buses and towed trailers traveling at 300+ MPH.
With an adjustable read range up to 2,000+ feet, the T-8000 tag can be mounted out of the driver's sight behind the rear view mirror. Metallic windshields, metal mirrors and grills do not affect the signal, thus the tag can be mounted under the hood of the vehicle for high security applications.
The T-8000 series can be used for gate access control applications, such as military bases, airports, gated communities, hospitals, trucking and bus terminals, mines, single family homes and all kinds of commercial facilities.
And when combined with personnel badge tags or industrial bolt-on tags, users can link drivers to vehicles, trucks to trailers, and portable construction equipment to trailers and trucks.