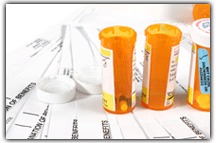 The University of Florida is working on a prototype RFID microchip that will let doctors and care givers know if patients have taken their medicines, according to a RFID World Canada report.
The pill has a RFID chip embedded inside of it in addition to an antenna containing silver nano-particles. A signal from the chip verifies that the pill has been swallowed and is in the patient's stomach. A message is then sent to doctors or family member's cell phone acknowledging the pill has been taken.
Hopes are to have the microchip combined with many types of medications including those which treat for chronic diseases, where it is important that patients take their daily dose on time as well as the correct amount.
The antenna dissolves in the stomach, leaving traces of silver, which are less than what is consumed from tap water. The chip itself is passed through the patient's digestive system and eliminated just as any other bodily waste.
To read more click here.