Terso's RFID-enabled cabinet – bigger is better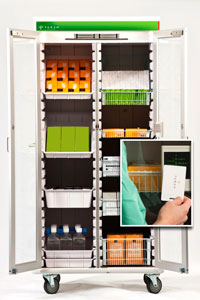 Terso has extended its line of RFID-enabled cabinets with the addition of a larger-capacity storage unit which features a customizable storage system to ensure the protection of high-value medical items.
Providing real-time visibility, Terso's larger RFID-enable cabinet accommodates 25 cubic feet of storage space, measuring 36-inches wide by 26-inches deep and 80-inches tall – making Terso's new RFID cabinet well-suited for operating room supply centers and catheterization labs or any other environments where high-value items need to be controlled at the point of use.
Terso's cabinets enable monitoring of inventory transactions at the item level by user, leading to a greater accountability. To access the cabinet, a user simply presents his or her electronic access control card to a cabinet-mounted scanner and removes the needed RFID-tagged product.
Once the cabinet door is closed, the RFID system records the items that were removed and communicates the information back to the hosted database. In addition to tracking inventory, the enclosure also monitors its internal temperature and the inventory expiration dates.
Terso is marketing the storage cabinet to large inventory supply areas, such as catheterization labs and interventional radiologists.