Texas beach resort taps PDC for secure access, while enabling contactless payments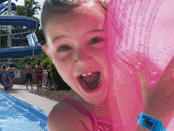 Precision Dynamics Corporation (PDC) has been chosen to launch its SmartBand RFID wristband system for keyless access, in addition to enabling contactless payments at the newly opened Schlitterbahn South Padre Island Beach Resort in Texas.
PDC's patented RFID system provides Schlitterbahn Waterparks and its guests an added measure of convenience and security. It enables guests to easily access their hotel rooms using their SmartBand RFID wristbands, which are issued at check-in.
When the wristband is presented to the RFID-reading door lock, a pre-programmed RFID chip sealed inside the band is electronically activated to trigger the door to open. Unlike standard access credentials, Smart Band is non-transferable and uses secure encryption to prevent unauthorized use or counterfeiting.
Schlitterbahn Waterparks has also branded their SmartBands and refers to the wristbands as "splash cash," which enables guests to instantly purchase food, beverages, and souvenirs via multiple cashless POS stations located throughout the park.
The instant transactions result in shorter lines, quicker purchases, and more impulse buying opportunities, benefiting both park and patron. Parents can also let their kids explore and still control how much they spend on in-park purchases, even when in different areas of the park.