Texas students to be tagged with RFID in pilot program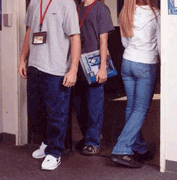 Two schools in the Northside Independent School District, San Antonio, Texas will pilot a program that places a an RFID chip into student IDs. This will enable teachers and school administrators to pinpoint a student's location while at school.
It will cost the district about $10 to $15 a student for the RFID chip or about $500,000. A middle school and a high school are involved in the pilot.
"Every parent wants us to know where their child is at school," district spokesperson Pascual Gonzalez. The program will track a student's movement through the halls and classrooms.
The district loses $175,000 a day in state funding because of tardy or absent kids. Even if the student was in the nurse's office or a counselor's office, the student might have been marked absent because he wasn't in the classroom. This project is expected to solve that problem.
Read more here.