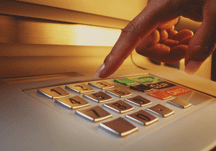 With advances in smart phone apps and capabilities, mobile banking might displace the debit card as the form factor people use to withdraw money from ATMs.
As reported by Mobiledia, banks in the U.K. pushing this technology by developing mobile apps to perform debit card functions. Royal Bank of Scotland and NatWest have developed a system called GetCash that generates a six-digit code that users input on a compatible ATM's keypad. This system allows a user to withdraw up to £100.
If security doesn't prove to be an issue, GetCash may encourage more people to switch to mobile banking. While not available in the U.S., some American banks like chase are testing different uses for mobile banking, such as mobile check deposit, to further the capabilities it can offer in the mobile banking spectrum.
While GetCash and other apps are still new, they're still being tested for their security and reliability. Still, this may mean a greater decline in the use of cash and debit cards as consumers accept different ways to access money.
Read more here.