The future of Registered Traveler is up for grabs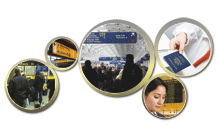 Vendor consolidation heats up competition as key airport contracts hang in balance
By Chris Corum, Executive Editor
When Denver International Airport issued its RFP to select a vendor to supply its Registered Traveler (RT) initiative in June 2006, three companies were actively vying for the business. Fast forward about 18 months … Denver still has not made its decision and only one of those three companies is still offering services under its original name. (Editor's note: Following publication of this article, Denver did award to Verified Identity Pass.)
The battle begins …
The early days of Registered Traveler saw Verified Identity Pass, Saflink, and Unisys slugging it out over the sparse pool of pioneering airports seeking RT programs.
Unisys was the first to offer RT services in the field through a series of pilot projects sponsored by the Transportation Security Administration (TSA) in 2004. The reported success of the pilots led TSA to move forward with RT, but the process also convinced the agency to privatize the effort thereby opening the door for companies to offer services to airports directly.
The experience gained by Unisys during these initial pilots set them up as an obvious provider in the new privatized RT. Unisys named their offering rtGO™ but it would be more than two years before it would rollout its next airport at Reno-Tahoe International in June 2007.
Another pilot installation occurred at Orlando International Airport providing the testing ground for Verified Identity Pass. The company honed its CLEAR Card offering during the trial and was allowed to maintain the project beyond the pilot creating the nation's first ongoing RT installation. In fairly short order, CLEAR debuted in a series of other airports including San Jose, Indianapolis, and Cincinnati.
Saflink founded a consortium called the Fast Lane Option Alliance (FLO) to bring key suppliers together to better serve customers and respond to the onslaught of projected business. Partners in the FLO Alliance included Microsoft, JPMorgan Chase, Johnson Controls, Inc., ID Technology Partners and The Paradies Shops. In March 2007, the FLO Alliance received its first contract to install an RT solution at Huntsville International Airport in Alabama.
In April 2007, Saflink was undergoing restructuring in the face of significant financial troubles. As part of this effort, a wholly-owned subsidiary called FLO Corporation was formed to pursue the RT efforts. Glenn Argenbright, then CEO of Saflink, transitioned to become president of FLO. Describing the change, he commented, "Today's announcements describe the logical next steps in the restructuring activities that we began last October. We've talked about the need to raise capital to fund our efforts around RT and our core technology portfolio and this is the first step in that process."
Saflink was out of the RT business and FLO was in – leaving three players still doing battle. But that too would change.
FLO and Unisys began jointly bidding on projects together around the time of the Saflink spinoff. As Joe Newcomer, rtGO™ project manager for Unisys, explained, "Unisys provided the technology side and FLO is the marketing side." He continued, "FLO also has a staffing arm that they use to staff (RT) sites."
In early October 2007, FLO Corporation announced that it would acquire the rtGO™ business of Unisys. The released terms of the sale state, "FLO will make ongoing royalty payments to Unisys through 2015. The transaction also includes an information technology services relationship between the parties whereby Unisys will serve as a subcontractor to FLO."
Two other companies – New York's Verant Identification Systems and Florida's Vigilant Solutions – are approved by the TSA to provide RT services but they have not been much of a factor to date. Vigilant does, however, have one client under its belt at the Jacksonville International Airport in Florida.
Despite these other entities, the field appears to be set for competition between Verified Identity Pass and FLO with each airport as a separate battleground.
But a battle over what?
To date, few would argue that RT has been much more than the proverbial money pit. Companies pursuing the space are doing so in anticipation of a future payoff when a critical mass of airports and cardholders begin to bring revenues to offset the massive expenditures.
Verified Identity Pass, the most successful of the field in terms of locations and members, reports just 68,000 members nationwide as of October 2007. With an annual membership fee of $99 ($28 of that fee goes to the TSA) that accounts for less than $7 million since the company's first card was issued almost two and one-half years ago. Consider corporate overhead and the fact that providers rent space from the airports to deploy their RT programs and you see that the current model requires serious growth.
But with U.S. passenger totals topping 660 million this year, there is certainly room for growth and profit. The coming months will be key for RT's future with as many as ten important airports expected to make decisions. If most decide to move forward with the RT program, major steps will have been made toward true value for the business traveler member. If delays, indecision, or declines take over the program's future may remain questionable.
CLEAR – Verified Identity Pass
Albany International Airport (ALB)
Cincinnati/Northern Kentucky International Airport (CVG)
Denver International Airport (DIA)
Indianapolis International Airport (IND)
Little Rock National Airport (LIT)
Newark Liberty International Airport (EWR)
New York JFK International Airport (JFK)
Orlando International Airport (MCO)
San Francisco International Airport (SFO)
San Jose International Airport (SJC)
Westchester County Airport (HPN)
New York LaGuardia International Airport (LGA)
FLO/Unisys:
Reno/Tahoe International Airport (RNO)
Hunstville International Airport (HSV) (Pending)
Vigilant:
Jacksonville International Airport (JAX)
Airports soliciting service providers:
Atlanta (Hartsfield-Jackson) International Airport (ATL)
Chicago O'Hare International Airport (ORD)
Los Angeles International Airport (LAX)
Miami International Airport (MIA)
Washington National (Ronald Reagan) Airport (DCA)
Washington Dulles International Airport (IAD)