'The Open Society Paradox' suggests path to security and privacy through transparency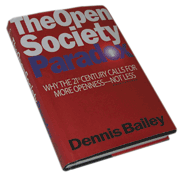 It is certainly refreshing to read a book on the balance between privacy and technology that is (1) balanced and (2) technically accurate. Dennis Bailey, author of The Open Society Paradox, is an IT professional and he understands identitication technology. He also "gets it" … recognizing that the concerns of the privacy community – no matter how disagreeably they may be manifested – are not without basis.
Much of the activities post-9/11 have attempted to secure borders and citizens by curtailing freedoms and individual choice. But, Mr. Bailey suggests another option … hold true to the valued 'openness' while securing society from those seeking to use this very openness to do harm.
He provides a contextual explanation of how we got to this point and offers compelling ideas for a more transparent society – one where personal privacy is preserved but the opportunity to hide behind the veil of anonymity is removed.
If you work in the ID industry, you should read this book. Visit www.opensocietyparadox.com to learn more about the concepts, download the first chapter, and get your own copy. ––– Chris Corum, Editor, Regarding ID