The QR Code is not your father's barcode

New data matrix codes present exciting new options in mobile marketing and communication
By Ryan Kline, Contributing Editor
Who would have thought that the lowly barcode, the stodgy grandfather of the identification technology world, would reemerge as a marketer's dream? Well, it is happening. A new generation of barcodes is adding an interactive aspect to advertising, product promotion, and more.
Imagine a concert promo poster with a printed code that when photographed by a standard camera phone displays a menu of options: listen to this band, purchase tickets for their next show, or take me to their website. Select the option you want and presto, your mobile phone does the rest. Pretty powerful stuff from a marketer's perspective … but can all this be done with a barcode?
Two-dimensional data matrix bar codes have been around for quite some time. The basic data matrix code consists of a series of black and white squares arranged in either a square or rectangular pattern. Unlike regular barcodes, which read in a single direction only, QR codes encode data in two dimensions and allow information to be decoded at a much higher speed. The codes are very resilient–even if partially damaged, the data can still be extracted from the bar code.
The best-known 2D matrix code is QR Code. It was created by the Japanese corporation, Denso-Wave, in 1994. The "QR" stands for quick response, as the creator intended the code to allow its contents to be decoded at a high speed. With the capacity to hold 2,953 binary bytes, a QR Code can contain an impressive 7,089 numeric characters or 4,296 alphanumeric characters.
When compared to the matrix code that the United Parcel Service (UPS) created to help with logistics identification, the QR Code has a much greater capacity in about the same physical size. The UPS code holds just 138 numeric characters or 93 alphanumeric characters.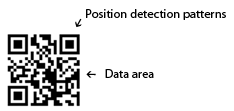 How do they work?
QR Code works in the same way as standard one-dimensional bar codes that we are used to seeing on items in stores. There is a code and a reader to unlock the code. With traditional barcodes, reflected light or infrared light is used to read the code, but with QR Code, any lens can photograph the code and a software application reads the image. The large squares that often appear in the corners of QR codes are position detectors. They tell the reader where the code starts and stops.
"The possibilities of 2D Codes are tremendous, and the imagination is the limit," says UpCode's Managing Director Sture Udd. "If used wisely, it contributes to a complete cross media application." The simplicity of having a camera phone take a picture of a little square and have it redirect to a website, open a new SMS text message, or import contact information to an address book makes this type of marketing and communication extremely powerful.
The small codes are big in Japan, but not so elsewhere
The QR Code is widely used in Japan for a range of applications:
McDonald's customers can point their cell phones at the wrapping on their hamburgers and get nutrition information on their screens.
Magazine readers point their phones at ads to receive insurance quotes.
Film promoters send their movie trailers from billboards.
But despite the success in Japan, the use of QR Codes in the United States and the much of rest of the world has been minimal.
"Japan's mobile market is typically two to three years ahead of Europe, and four years ahead of the United States," commented Gavin Jancke, director of engineering for Microsoft Research and inventor of the High Capacity Color Barcode format, a 2D multi-color code. "Japan's culture," he continued, "is more mobile and gadget inclined … think Tamaguci/Digipet."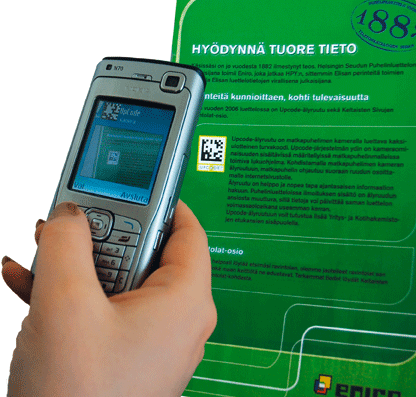 The use of the QR code in Japan is largely thanks to the mobile phone providers, primarily NTT DoCoMo, the company controlling 54% of the Japanese mobile market. DoCoMo understood that in order for people to use the technology it had to be given them, so the company began shipping phones with the QR Code reader on board. Today, more than 60% of DoCoMo users have QR Code reader equipped phones.
If the service is not installed when phones are purchased, it is a challenge to get the QR Code application onto a handset. Though it can be done, it is unlikely that consumers would do it in mass.
Most industry insiders agree that in order for matrix codes to take hold in other countries, the mobile phone manufacturers and providers have to change the way they think. "The ones driving it haven't understood the benefits," according to Mr. Udd.
The mobile Internet drives the most compelling applications
"More than 80% of the mobile phones in Japan have access to the Internet," according to the NTT DoCoMo spokesperson. "The popularity of QR Code was from the high ownership ratio of Internet-accessible phones and QR Code reader equipped phones."
On the other end of the spectrum, only 4% of Americans use the mobile Internet (according to dotMobi, July 2006), although many, if not most, new handsets sold today are capable.
So in America, if a specific QR Code's purpose was to automatically redirect to a website, only 4% of Americans would be able to take advantage of the offer. Of course, there are applications for the codes that do not require Internet connectivity (e.g. importing contact information, obtaining basic details about an event, initiating an SMS message), but many of the most compelling marketing uses tie back to the web.
Increased bandwidth in the United States by mobile phone providers could greatly facilitate the growth of QR Codes, as could a decrease in service fees charged for access.
Camera phone quality matters
Still, even if a provider pre-installed a QR reader application on its phones, there would still be problems with how QR Codes were captured. "The Codes contain a lot of data and if one wants to keep it as small as the data matrix, the phone needs a special lens," says Mr. Udd. "Today's phones haven't got that." Camera phones need to be able to zoom in enough so that a passerby could simply point to a QR Code on a poster, and zoom, instead of having to walk close enough to get all of the data readable from the code.

Settling on a matrix code standard
The QR Code, though the first and most widely known of the 2D matrix codes, is not the only game in town. A number of competing formats exist, each vying for a place in the emerging landscape. For the technology to succeed, a single format will need to be standardized (at least in a region by region basis) or application software will need to support multiple formats.
For instance, based in Finland is UpCode. Looking at the matrix, this type of code looks exactly like a QR Code that could be read with a handset from NTT DoCoMo. But it is very different, encoded with a proprietary language that can only be read by an UpCode reader. But Mr. Udd himself stated that a standard was indeed necessary.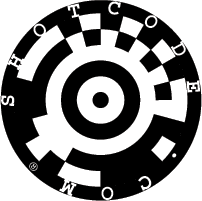 In the Netherlands, a company called ShotCode has developed a matrix by the same name that uses a circular format. According to Dennis Hettema, founder of ShotCode, "see a ShotCode once and you'll always recognize it in the future. The ShotCode reader was developed with devices in mind that had low processing power and bad lenses. This means that ShotCode is compatible with the largest range of mobile phones in the market."
There are two rings in the ShotCode that are made up of black or white blocks that either represent a one or a zero. Incorporated into the code is a checkbit so that the reader knows where the number sequence starts and ends.
Coca Cola printed ShotCodes on product packaging for a Sprite marketing campaign in Mexico (http://www.promosprite.com/). Once the code was scanned a trivia question automatically appeared. If the question was answered correctly, contestants instantly knew if they won one of the millions of prizes. This was promoted as the first ever on-pack mobile barcode scanning campaign launched outside of Asia.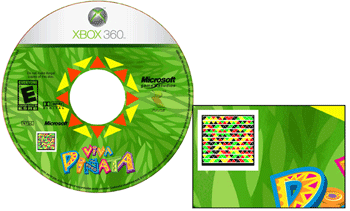 In the United States, Microsoft has developed a matrix code that includes color as an additional data-encoding variable. The company's High Capacity Color Barcode (HCCB) arose out of a biometric ID research project. "We wanted to store lots of biometric information in a small space," stated Microsoft's Mr. Jancke. "Existing 2D barcode formats were too big."
The difference between Microsoft's HCCB and other 2D codes is the color. "Using colors means it can store more information than black and white codes," said Mr. Jancke. "Black and white codes stores one bit per symbol, 4 colors stores 2 bits per symbol, and 8 colors stores 3 bits per symbol."

Will there be a QR Code in your future?
Although QR codes have exciting marketing and information sharing potential, the handset manufacturers and service providers outside of Japan have yet to invest in the infrastructure (e.g. capable handsets, high capacity broadband) to enable the technology. Other factors, including numerous competing wireless providers and the competing technologies (e.g. near field communications), further complicate the issue. If these hurdles can be jumped, as they have been in Japan, perhaps we will all one day point our camera phones at the interesting little codes to access a host of special offers and services.