The Slate, USB powered RFID desktop reader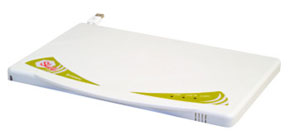 CAEN RFID announced availability of its newest addition to the easy2read family with the ultra high frequency desktop Slate RFID reader. It features integrated circular polarized antenna for short to medium range applications, such as point-of-sales, document tracking, RFID programming stations, and access control.
Powered and controlled directly by USB it enables the read of EPC Class1 Gen2 UHF RFID tags in a desktop environment. The Slate features measures 15mm thick and covers a surface area roughly the size of a sheet of paper.